the sharpest lives are the deadliest to lead
50.125.75.30Posted On November 26, 2015 at 8:10 PM by
AIDEN TETRADORE
aiden tetradore
It was particularly rare when Tetradore stepped a foot into the burlesque his sibling had owned. Although he had contributed to the facility's startup, and though he had brought the wayward fairy to the supernatural establishment, the man was widely absent from the place. It was out of respect for his younger sister as she made an effort to carve out her own niche in the world. She needed this place to blossom and he respected that. His fingertips drummed on the table as he waited, a soft sigh upon his lips. Tetradore brushed away any waitress that made an attempt to cater to him, just as he too disregarded any attempts the staff at large made to engage in any flirtatious behavior. Tetradore was here for one reason only and hardly intended to deviate on the whims of some woman he didn't know. Instead, he waited with some resemblance of patience as the young fae that brought him here in the first place stepped out of the employee only area fully clothed in a street friendly outfit.

His emerald eyes glanced upwards at the young woman as she settled in front of him, hardly oblivious to the good nature in which she regarded him with. He shrugged ever so slightly, his gaze momentarily glancing towards the stage. "I wasn't terribly paying attention." He admitted after a moment's hesitation. Sure, Tetradore could appreciate the feminine figure and the ones dancing upon Nadya's stage were certainly worth appreciating. Unfortunately for this crowd, Tetradore had been subjected far too much for far too long when it came to skin. He learned how to ignore it - how to look beyond the salacious outfits dancing around him. Maybe, the reason that Tetradore avoided the burlesque was because it reminded him too much of the club he had been confined to for the majority of his life. His emerald eyes slowly returned to the woman in front of him as she spoke of the ruckus his presence had created behind the stage. An audible snort left Tetradore's nose, his head shaking ever so slightly as he muttered to himself, "And she wondered why I preferred to be a panther." The limelight, it would seem, was ill suited for the were creature.

He hardly hesitated when the woman announced she was ready to stand and step out of the booth. "Come on, we're going to go downtown. You'll see more than fae there and hopefully it will be less overwhelming for both of us." It was a feeble hope by the best one he had. He gestured towards the door with his head before turning to make his way from the burlesque, knowing all too well she'd be following only a few steps behind.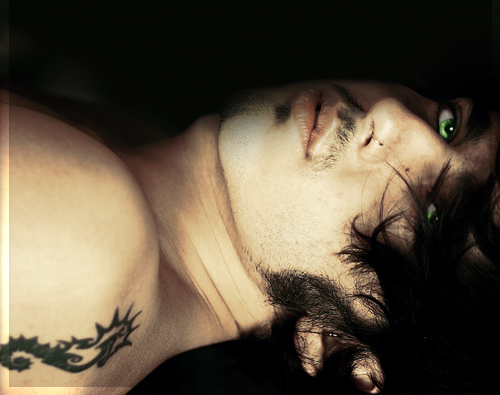 Replies