:: He'll Only Break Your Heart ::
101.191.163.124Posted On February 29, 2016 at 12:03 AM by Tobias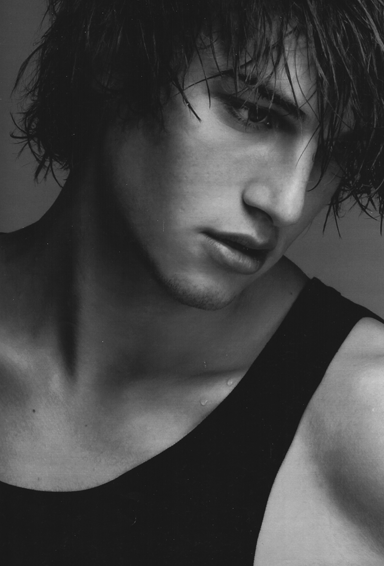 He watches her from within the confines of the shadows, eyes of darkened gold fixated upon her form with a distinctly predatory gleam as he reclines atop the roof of an opposite building to the store she has made her way out of- something tucked into the pocket of her jacket. It is rare indeed to find the Leopard so far from the West, his pack and his Alpha, yet tonight the deviant has wandered much farther than usual. That long tail of black and gold flicks and turns as it hangs from the roof top, continuing to eye the woman as she walks with an evident curiosity and yet what is curious about her remains to be seen, Tobias rarely given to afford any true reason for any of his actions. He is not like the others. His mind does not work as it should, the fractured shards of his thoughts barely passing for a conscious mind and yet within his animalistic form the world is clearer to him- to an extent. The line between man and beast for Tobias had always been perilously thin. She begins to walk away and for a moment the golden eyes of the cat follow until she wanders from sight, only her scent left lingering on the breeze as he rolls languidly to his paws, moving to follow of swift, silent steps, head tilted and turned with ready curiosity still. He likes her scent, can taste it upon the air, a satisfied rumbling rolling from within his chest as his pace quickens to follow this new object of his fascination. He rarely leaves the side of Tetradore and yet tonight he is away from the Ark and the fighting rings in which he dominates so readily with his brother-in-arms, tonight he is away from the docks and warehouses where so many flee from before him. They fear what they cannot understand- and so few understand Tobias.

He leaps silently, smoothly, landing atop the roof of bar she passes into, eyes narrowed in dissatisfaction to lose his prize so quickly as a huff or irritation parts his lips. His own sense extend, listening, the bar below loud, bright, his mind rebelling against such things. He remembers, yes, because he does not ever forget, not truly, what it is to be within a bar. He remembers the chains, the collar, the rooms he was locked within over and over with Tetradore beside him and freedom forever out of reach. A hiss spits from his lips unbidden, tail lashing in agitation at memories of Risque. The vampire woman was perhaps the reason to blame so much of his current condition. If she had never taken Tetradore from him then perhaps he would have been…normal. Had she not slain those whom had adopt him, taken in the wild boy found wandering in the woods then perhaps he would be so much more then he is. There is no good however, to come from missing what has never been, his fractured mind and damaged thoughts incapable of emotions so advanced. He knows only that he dislikes bars and yet the scent of cooking meat lures him still.

He leaps from the roof now, large, heavy paws carrying his spotted frame around and behind the bar, one shoulder shoved against the wooden door to open it as he does, pacing easily into the kitchen in search of the meaty scent that so allures him. His own senses extend once more, the more unique of his powers drawn into play, his desire to find what he seeks assuring it takes barely a moment more to find the roasted shank of lamb. He should share, this he knows, Tetra or Nadya or Birdie surely desiring such a prize and yet he is a cunning creature, if he may keep such a thing entirely to himself he will do just that. He is displeased with Nadya of late, the girl containing to irritate him and surely….surely Tetra will never know. He stands upon his hind legs, sliding it from the place it cools, gripping it firmly within his jaws before sliding out and around the bar, gliding within the shadows once more. He is a large Leopard truly and yet he understands well how to go unseen, such lessons instilled within him over and over in an effort to prevent Risques wrath.

There is no Risque tonight and yet he moves to the nearest safe haven- underneath the table of the unfortunate Yejide- his original target, though it would seem his mind has already forgotten as teeth rapidly tear into his shank of meat, barely a bite or so leaving only the bone. That he has surely been noticed by now remains to be seen, a yowl of displeasure erupting from within him, his lack of further food only seeking to displease him entirely as he rather abruptly sheds his Leopard skin, shifting back into his human form. The Leopard is easily replaced with the rather skinny, though toned, gangly young man, lashings of wild dark hair tumbling into his equally black gaze, Tobias having managed, this time (mercifully) to shift with his clothing in place- ripped jeans, bare feet and his favoured blank singlet hanging from his unkempt form. He has been noticed now, by several patrons and yet none move to stop him, the boy well known within the world of the Were at least. For all his supposed insanity there are few so powerful as himself and few willing to engage in any sense of argument with him. One long arm reaches suddenly out from beneath the table, rather abruptly snatching the poor woman's jacket towards him, long fingers moving smoothly through the pockets in search of the prize he has only just remembered he is sure he has seen her with, plucking the little box with the broach from within before rather unceremoniously prying it open.

It is evidently not what he has desired it to be, features forming a distinct scowl, oblivious to the fact the woman may not appreciate him sitting beneath her table much less pilfering her things, the white bone broach tilted and turned about as he examines it like a curious child- assured the bone from his lamb shank is a far better prize all the same. He makes no move to return what he has taken, nor to get out from beneath her table, the bare-footed bandit clearly determined to continue to examine the broach, one finger moving to poke at it in some effort to discover entirely what it is, muttering to himself as he does- the words seemingly having no true meaning or form…..



madness, as you know, is like gravity: all it takes is a little push
Replies

Post A Reply