and the sun also rises
101.191.154.187Posted On May 23, 2016 at 4:37 AM by Dorian Aragona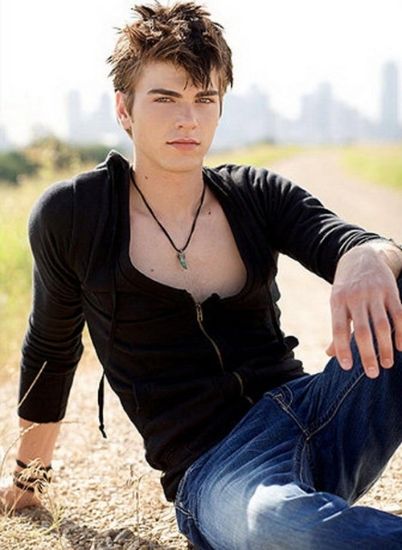 He could not bring himself to be closer to the other man if he tried, the space between them nearly non-existent now, Dorian shifting only enough to allow Sebastian to rid him entirely of the jeans and boxer shorts beneath. In truth he is glad to be free of them, he abhors that denim fabric, the underwear little more than confusing to him at best and yet in this moment it is merely the restriction they provide that so sees him determined to escape them before crushing lips to vampires own once more. He wonders, truly, if it is the man's age and experience or simply Sebastian himself in his own unique manner that affords the man his decidedly talented hands. There is a certain skill to such things, one Dorian appreciates, one many of his own previous partners have lacked and no amount of tutelage from the Fae King could teach. He is content, in this moment, to merely relish entirely in the sensations provided so willingly to him by his lover for the night. Though he is dangerously close to his own limit for such things. The pleasure at Sebastian's touch building rapidly as his hands run through the vampire's hair and his own lips and teeth grace the man's neck in a silent, subtle, suggestion for the man to take what he was owed. Dorian's neck offered easily to him now, willingly.

His experience with vampires is near non-existent and yet just as Sebastian had promised, the heat of the moment renders Dorian near entirely beyond caring as to how or where the vampire might decide to bite. He simply desires it. Sebastian's hips shift closer, teasing that final groan so thick with need from Dorian's throat, Sebastian failing to break his torturously exquisite touch. Dorian having lost count of all the places his form brushes against the man's own now. He is aware of the man's lips on his throat as they sense for the veins beneath, aware too, dimly, of the pointed tips that tease at the flesh at the base of his neck before Sebastian bites down. There is the briefest of stings to accompany the gesture as those fangs pierce into his neck and yet in the torrent of sensation that follows in the wake of vampire's venom Dorian finds it entirely insignificant. This final act is all Dorian needs to reach that pinnacle of pleasure. Sebastian's name a moan on his lips once more as that final fabric of his control blissfully tumbles apart, form shuddering against Sebastian now, hips grinding against his own. His own teeth bite down, lightly, upon the man's neck, hands still within his hair, breathing left ragged as his heart continues to pound within his chest. He finds himself leaning into the man in the wake of it, fingers running softly through the dirty blonde of his hair as the vampire continues to feed- Dorian entirely content to allow him. After all, it felt….glorious. He is, perhaps, unlike any of Sebastian's previous conquests, capable of, safely, affording the vampire far more blood then any mortal being. After all, just as Sebastian himself, Dorian is entirely immortal, far more durable than any human, or Were or Witch in this sense at least. Besides- how often was Sebastian afforded near 600 year old blood? Perhaps better still, blood that remained entirely untainted by any modern fault. Dorian never having so much as touched a drug, a cigarette or a drop of any modern alcohol or chemical laden food that might otherwise taint the blood of most others.

"Vous avez gardé votre promesse." (You kept your promise.)

He offers the barely whispered words as he seeks to catch his breath and Sebastian's lips at last leave his neck, dark grey gaze meeting the blue of the man's own at last. It is decidedly rare for Dorian to afford such praise and yet he sees no need not to give credit where credit is due. In near 600 years Sebastian is perhaps…..the best he has had. Yet Dorian is not quite finished with his companion, not just yet, such pleasure should be shared- it is only fair. His hand lifts to press against Sebastian's chest, encouraging him now to lie back. The vampire far warmer with Dorian's own blood coursing within him, the Fae finding himself satisfied with such a thing as a simper of sorts touches his lips. He waits only so long as it takes the vampire to make himself comfortable before he sees to it Sebastian is afforded the same release, reaching to his groin to enclose the man in his hand once more- before abruptly taking him between his lips. This, he finds, is generally a very pleasurable way to reach that perfect high, Dorian working to find just the right manner in which to manipulate Sebastian until he too is thoroughly satisfied.

It is only then that Dorian at last moves away, lying himself easily down beside the other man, breathing still unsettled, heart rate steadily moving to calm itself as Dorian simply basks within the afterglow of such a thoroughly satisfying evening. For several minutes he simply lays on those exceptional silken sheets, inhaling that simple scent that exists in the wake of such activities and listening to the sound of Sebastian's own breath. The baritone of his voice at last slipping into the air.

"I think, perhaps, we have not been properly introduced. I would have afforded you my full name before now yet it is decidedly long to say."

He pauses, briefly, rolling onto his stomach, leaning his head in his hand as he does, hair thoroughly mussed in every direction, one finger tracing an absentminded pattern upon Sebastian's chest as he smiles easily.

"Dorian Valerio Aragona, King of Naples, Sicily, Gerace, Santa Agata, Jerusalem and their associated kingdoms, Marquess in Arsena and Montalto."

His lips quirk smoothly in amusement in a lopsided grin, one rarely seen upon the King's lips and yet offered now towards his companion- the Fae finding himself…thoroughly relaxed and utterly contented.

"It is a decided pleasure to meet you, Sebastian."


Dorian
Replies