feral by nature
72.168.176.185Posted On March 04, 2017 at 3:05 PM by Malia Tate


She could feel the horse's influence all the time now that she'd let him do that bond thing. It took her a while to get used to but it wasn't altogether unpleasant, just foreign. He wasn't overly demanding of her attention or anything. He pretty much let her do as she pleased which she liked because she didn't take well to be told what to do. It was like a GPS built in or something, like he knew where she was at any given time. He did try his best to help her shift that night after their fight but she just couldn't concentrate. There was just too much to take in. How did he make it look so easy? She concentrated till she was panting for breath like she'd just run for miles but she couldn't so much as get her tail to get any smaller. And now look at her. She was fully and completely human and she didn't know what to do about it. All of a sudden, being stuck as a coyote didn't seem all that bad. There was a lot to check out in his house too. He had never been in a human home before and her curiosity was running away with her.

Once they made it through the door, there were so many new sights and smells. She could tell other Weres had been there but they weren't around to meet her yet. She had to make do with checking everything out. She took a tour of the house, including their rooms, sniffing through everything and getting to know them. If you can't talk to them, get to know them any way you can, right? He told me the fridge was always full but when all I found was vegetables and cold meat, I turned up my nose and decided I'd rather keep hunting fresh warm meat instead. I did curl up in the bed he offered one or two times but it just didn't compare to the cozy leaves she had piled up and the smell of moss and bark as she fell asleep at night. She didn't understand how the other Weres could do it, this whole domestic thing. Didn't they miss just being an animal and living that way? She didn't find anything wrong with it. She had been gone for days from that now though, having gotten stuck at Henry's house until she felt comfortable enough to go back out and find the horse's abode.

She was a little nervous that the assholes would find her and maybe they'd recognize her even though she was a girl now instead of a coyote. Her leg had mostly healed from the arrow that went through it and she could put full weight on it now. She felt better than she had in weeks really after eating all those sandwiches and whatever else Henry could talk her into eating. It was still weird to get used to but if it smelled and tasted good, she would eat it. But she had to return to the horse's house at some point. She wanted to check in oddly enough and more importantly, she wanted his help in continuing her training. Henry was in denial that he even was a Were so there's no way he could help her shift back and she knew the horse could. He was going to teach her and she wasn't going to give up until he did. When she walked into the house, she heard movement from upstairs and looked up, her nose already twitching. He was here. And then she heard a foot fall made heavier than it should he and her head whipped up, lips even curling in case she needed to defend herself.

But it was only the horse, except in human form. As always, his features were unreadable so she couldn't tell if he was surprised, impressed, revolted, anything. He was as emotional as a robot and she hated it. He said something about Frost and that he was around and her brow raised in puzzlement.

"WHAT ABOUT FROST? ARE YOU COLD OR SOMETHING?"

She had no idea what he was talking about, but at least he was here and that was something. She felt his gaze then roaming freely over her and she stood there impatiently, about to start tapping her foot if he didn't say something or do something. She wasn't self conscious or anything but she didn't like standing still, let alone standing still while something stared at her. The only time she allowed that was if it was a deer she was about to eat. Finally the horse started walking down the stairs and she could see a shadow of something tugging at his lips, like he wanted to smirk or something but didn't. What was up with him and showing any kind of emotion? Was he created in a lab or something? There was a flicker of something like curiosity in his eyes before he told her he could see she had finally shifted and at least he told her well done like she had accomplished something. Only then did she smile.

"IT WAS TOTALLY BY ACCIDENT BUT YES, I DID. SEEMS BEING BOUND AND HELPLESS MAKES ONE THINK OUT OF THE BOX, OR SUIT, RATHER. BUT NOW I'M KINDA STUCK. ANYTHING YOU CAN DO ABOUT THAT?"

Then he waved his hand at what she was wearing and she raised a brow in confusion. What is it? What was she supposed to be wearing, or not wearing? At least she was clothed. Would he rather she didn't? HE was wearing clothes, why couldn't she? He leaned against the rail and asked whose clothes she was wearing. She scowled thoughtfully. Henry seemed pretty secretive, almost a hermit but surely the horse wouldn't try to hurt him for taking care of her. She shrugged.

"JUST A GUY WHO DOESN'T KNOW WHAT HE IS. HE FOUND ME THE NIGHT I SHIFTED AND SHOWED ME HOW TO EAT SANDWICHES AND TAKE A BATH AND STUFF. HE GAVE ME THE CLOTHES. HE DOESN'T KNOW HE'S A WERE. SOUND FAMILIAR?"

She smirked, hoping he wouldn't push more because she didn't want to call attention to Henry if he didn't want it. Besides, she kinda liked having a secret friend. She was going to show him what he was and how to shift but first the horse needed to show her how to do that.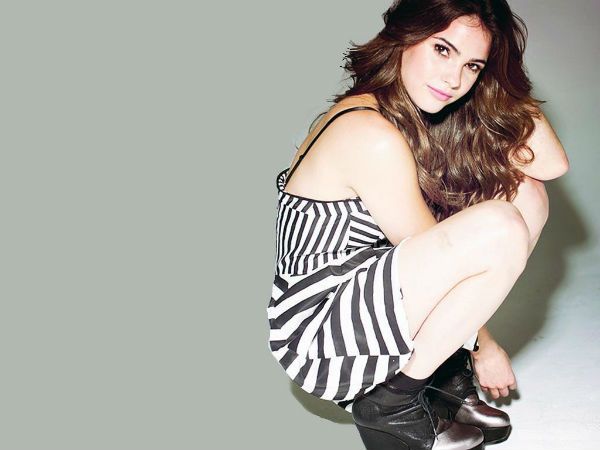 Replies

Post A Reply