Will you mix your perfume up, from diesel fumes and gasoline
72.168.177.40Posted On March 20, 2017 at 9:25 PM by Malia Tate


He never seemed to amaze her with the lack of facial expressions he could show while listening to her. She would have certainly agreed with him that names were altogether useless. She had only made up names with the pack to keep them all straight in her head but she always chose something easy to remember like Leaf or Daisy. Something like Frost would be a little harder, if only because he didn't really make her think of anything cold. Maybe it was the hair? She wasn't about to ask though. After all, it wasn't all that important to her. Somehow she didn't think he was satisfied with her answer when he asked who had tied her up. Why didn't he seem to know what an asshole was? Henry certainly seemed sure of it when he told that that's who they were. She knew she didn't hear him wrong. He started saying that assholes was just a word, not a name of a certain kind of people and now it was her turn to scowl thoughtfully. So what were those people then? She knew they must have a name but she didn't know what to call them. Merceneries? Hitmen? Whatever they were, they were skilled at what they did. At his last question, she couldn't help but sigh and shake her head, actually disappointed in herself that she didn't pick up on any details.

"No, I didn't get a good look at them. There were at least two of them though, and they stuck me in some grimy oily van. It took me days to get that motor smell out of my nose."

She wrinkled her nose at the very memory. When he mentioned shifting back to a coyote, she was excited. To be in her own fur again! The very idea thrilled her to no end. To feel the wind through her fur and run on four legs. It was a dream to her now. She wanted that more than anything, if only to know she had the power to do it whenever she wanted. But this mention of being able to turn others into Were's just by biting them? It was foreign and strangely exciting to her. She wasn't about to mention all the humans she'd already bitten in her travels and wondered vaguely what became of them. Did they all turn and now there's other angry coyotes out there wanting her hide for what she did to them? She scowled thoughtfully and even swallowed a bit at the thought of a pack of coyotes coming for her but she suppressed the throught with a wry smirk and shake of her head. No, that was all in her head. Surely she was overreacting. He told her more about it and confirmed that she may very well have turned some humans in her idle attacks, her gaze forcefully looking away whenever he'd mention it because she didn't want him knowing that she might have already bit more than a handful of people. It was self defense, she swears!

She scowled at him, raising a brow when he said that she would only create coyotes.

"You say like it's a bad thing. I don't see anything wrong with it. We are a force in number, after all."

She raised her head a bit proudly as she said it, eying him daringly just as she had on the first night they met. Yes, she would look at him as her alpha now but that didn't mean she couldn't have a bit of spunk every now and then. Once his explanation of the birds and the bees and the saliva and the moon was over, he collapsed into a chair like he'd actually done something and waved her to the center of the room, wanting her to shift as if it were his afternoon entertainment. Sure, she knew he was trying to teach her but surely there was an easier way than staring at her hands until she was sure they were about to come off. She didn't like the idea of him force turning her at all and she let him know with a snarky comment, not once noticing that she had semi turned in her sudden uptake of anger. Once she had calmed herself though, the shift was gone and she was left a simple human once more. She tried focusing on her hands since that was one of the first things she remembered staring at in disbelief as the fur vanished and the knuckles rearranged themselves. She focused and refocused as the shift started then dissipated. She wouldn't admit defeat. She was too determined.

Sure enough, she started to see the fur sprouting out of her fangs like a plant growing from a seed in fast forward but before she could think too much about it, the pain became excruciating and she found herself bent on the floor, her bones rearranging as she screamed for mercy. Through all the fog of pain, pain, pain, somehow she was still able to find his voice in the jumble. He told her to stop fighting it, to let it happen. She tried to focus on his words, trying to feel for that fire but then another wave of pain would hit her and she gagged, feeling like she might heave up her insides.

"Oh God, it hurts!"

She screamed, clenching her teeth together and wondering if someone would come beating on the door, thinking he was murdering someone. Did that happen often when someone turned here or were they more subtle about it? But then more pain arrived and she couldn't think clearly anymore. She screamed again, a blood curdling sound and stars flashed in her gaze. She thought she might pass out and her breaths were coming in short gasps at this point. She felt the pain start to subside but then she saw her knuckles turn back human and she tightened her jaw.

"No!"

She was willing herself to continue the shift this time, determined not to come out of this horrific moment as a human. She WOULD be a coyote again. She closed her eyes and reached for that fire, trying to pull it through her. She could still feel his presence, even if she couldn't bring herself to open her eyes and find him. Somehow it was still comforting, just knowing he was still there. And then....quiet. For a moment she thought she had passed out, but as she willed her eyes to open, somehow that's exactly what they did. She was lying on the floor, her tongue lolled out, panting like a dog. Wait...panting? Her eyes stared down her long slender muzzle at the furry paw closest to her face. She did it! She had turned! It was all she could do not to jump up and start dancing but that was the furthest thing from her mind right now. Or should she say her muscles? She felt exhausted and disoriented, like she could sleep for days and still never fully recover. Is this what it was going to feel like every time? She growled deep in her throat at the thought and somehow just that sound through curled lips made her feel a little better. Man, it was good to be an animal again.

She felt more at home now than she had in days. Slowly she lifted her head, looking at Frost through droopy eyes. She had somehow still registered his last words even through the haze of her shift. Her lip curled in humor this time.

"You mean plump? Yeah, I guess you could say it takes a little more strength to pack on those pounds, Rapunzel. Oh, my bad. I meant Frost."

She let it roll off her tongue in a sassy purr. Even downright defeated, she could still show him some sarcasm. How delightful she was going to be to have around.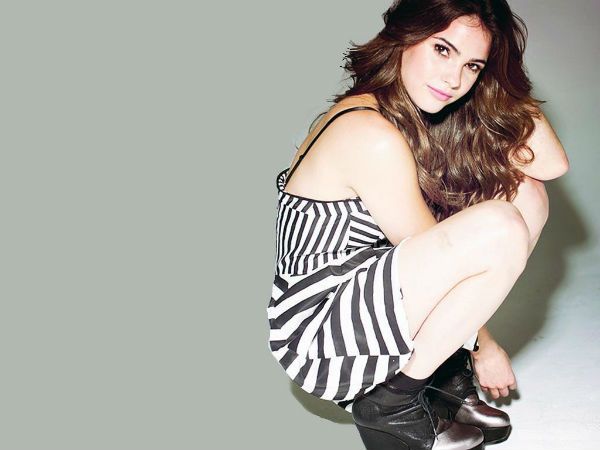 Replies

Post A Reply