baby ain't we a beautiful disaster
72.168.177.172Posted On May 01, 2017 at 6:17 PM by Malia Tate


He at least waited on her a little patiently as she changed the second time. She could almost feel his presence with her as she shifted even though she knew he was outside. She was still getting used to the fact that it would probably always be like that, no matter where they were in relation to each other. Perks of being in a pack. Or curse, which ever way she wanted to think of it. She slipped on the clothes and stepped outside to meet him, giving him a smirk when he gave her that approving nod. He seemed to accept the way the clothes fit on her though this whole tight clothing thing was going to bother her for a while. She kept tugging at the hem of the shirt, hoping to somehow stretch it enough to cover her stomach but it seemed it wasn't going to happen. The pants fit well enough though, not tight enough to make her feel like she was going to split them but just tight enough to show she actually had an ass. It would do anyway.

The doors were a whole new kind of magic to her, just as the water coming out of the spigots from seemingly nowhere would apparently always be. She had to play with them a little, even noting his little huff of amusement but she brushed it off without comment, too distracted by the doors themselves. Of course he kept walking and it didn't take her long to figure that out, her eyes widening at the thought of being in here all alone with all these humans she didn't know. She felt a wave of panic before rushing after him. As she looked around at all the humans, she felt the panic subisde only a little at his side, pressing further against him in an effort to draw some strength from his presence. He was her alpha so she should feel more confident with him right? At least she was assuring herself that was how this thing worked. She listened carefully to his murmured words, biting down on her bottom lip as she looked down at her own feet to keep from tripping on them while she listened.

She took a deep inhale and found that he was mostly right. Sure, she could pick up on tiny whiffs of other species in here but mostly it was pungent with the scent of human. She nodded, trying to straighten her spine and seem more confident like he said. But the store fronts offered new distractions. The store Miyako had taken her to was only a small clothing store and she didn't see any mannequins in there so these were whole new specimens to explore. She poked at one, messing with its clothes before turning to question Frost. He shrugged and said that they display the clothes, hoping that someone will buy the pants and the shirt. She looked back at it and scowled thoughtfully, tilting her head to get a better angle on it. Sure, she guessed it looked okay like that, but why on someone fake? She sniffed and looked back at him, hurrying back over to walk at his side again.

"Why don't they just get a real person to stand there wearing the clothes? Wouldn't that make more sense?"

She didn't understand much in this human world. Especially the depths of human cruelty, it would seem. As she realized what the fur coats were made out of, she went off on an attendent who hurried away. It wasn't much longer before she felt Frost's presence close by and she turned to watch him run his fingers across the fur before he turned to speak to her. She listened to him with an open mind, or at least as open as her mind could get. She didn't like it, not one bit, but on the other hand, she could see why soem humans might like the fur of animals to keep them warm. Her own fur certainly did that better for her than this human skin. She scowled thoughtfully and looked down, sighing before she looked back up at him.

"Predators don't kill other predators unless out of survival. I guess it's just weird that humans would choose to kill a bear or wolf when they could just create more fake stuff like that stupid doll looking thing."

She wandered away from the store, suddenly wanting to put some distance between her and the real fur. It just creeped her out. She crossed her arms and shivered, moving toward another store where she could practically smell the leather a mile away. She knew it was real animal hide but they made it look so glossy! She ran her fingers over a black leather jacket, her eyes widening before she slipped it on and turned to him, spinning.

"What cha think? Is it me?"

She smirked teasingly.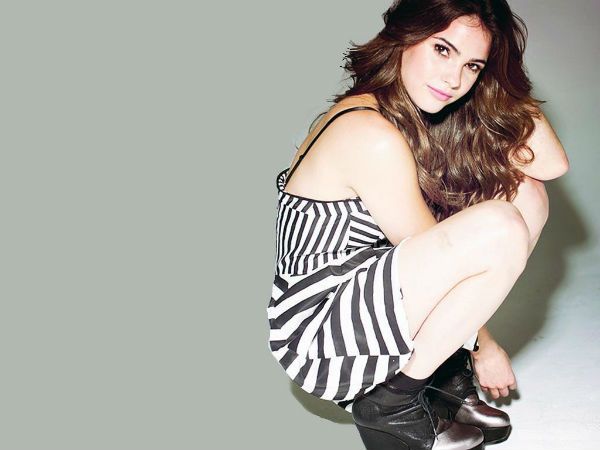 Replies

Post A Reply