So stay with me, don't leave me with the medicine
107.140.26.96Posted On June 21, 2015 at 4:47 PM by Johnathan Blake Holmes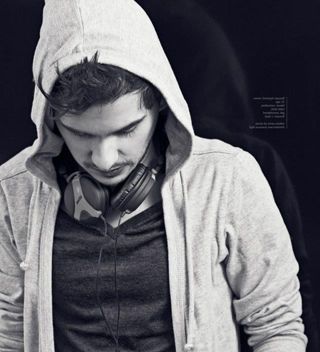 i dont wanna be your vessel anymore
"Yeah, I suppose she does." He smiled before shrugging slightly as she spoke about her own family a little. When she mentioned checking on her things, Blake gestured toward the direction of the bathroom where she had left her things in case she needed a reminder of where everything was. It wasn't like his house was a maze or anything but still, she had a long night. As he waited, Blake sipped a little more on his drink before starting on the dishes, determined this time he would stay ahead of them. He wouldn't but it was nice to pretend. He hadn't heard her return to the kitchen, the man almost dropping a plate he was scrubbing.

"Oh sure, not a problem! Give me just a second to get my things." He paused at the counter top to finish his drink, deciding it was probably a bad idea to carry it around time. He didn't want to attract any odd looks from whoever might be out there wandering around at this hour. Blake pulled his coat back on, hesitating to stare at her for a moment. It was that moment he realized she was still wearing his shirt but he didn't say anything, instead grabbing another coat and dropping it over her shoulders. "Before you give yourself frostbite," Blake explained as he reached over her to catch the door as she lead the way outside. The coat was probably more suitable for springtime but it was the best he could do since his manners were unable to overpower his desire to keep his nicer coat to himself. Hey, he never said he wasn't a little selfish.

As they walked, Blake would occasionally say a few words to break some silence but mostly they were simple (and sometimes stupid) statements that really went nowhere. Eventually, he just fell silent, dividing his attention between noting their path and observing her to make sure she doing okay. When they approach the dark house, Blake lingers a few steps behind her, noting the address for later. He was a little curious about them entering the backside of the house, but it was her place so maybe she had her reasons, such as roommates or something. Hopefully it wasn't going to turn into a "sneaking you past the parents" thing because that would get awkward as shit. However, Blake really wanted to ask "why" when he watched her dive through the window, feeling more like he should be in high school helping some girl sneak back into her place after sneaking out. In fact, he was having to question himself on her age again because- dear God- what if she was high school?

"Forget a key?" He asked, adjusting his volume to match hers, after she opened the door for him. Blake followed her to the kitchen as she tugged him along, glancing around the home. Not exactly reminiscent of a family home... Maybe roommates then, not parents. That he could handle. Also, it indicated she was at least adult-status so he wouldn't have to worry about appearing like a creepy guy. Of course, who the fuck is here to call him creepy? The empty house? Calm down, Blake-y boy, getting yourself worked up over nothing.

He settled against the counter as she began fluttering around the kitchen, watching her work. Apparently she was in the mood to bake now. "Hm? Oh yeah, no problem. Next time you should give me some warning ahead of time and I can prepare for two," He teased lightly, reaching over to steal one of the cookie dough balls on the tray and popping it in his mouth. He used to be banned from the kitchen for that. In fact, his poor mom would turn her back for a moment to check the oven and when she came back to her cookie tray, she'd be missing about half of it while a very guilty looking chipmunk-cheeked boy would be staring wide-eyed at her. However, the atmosphere took a sharp turn with the addition of the other man. His tone and his words made Blake tense up slightly, the man folding his arms over his chest as he studied the other. Blake bit his tongue, glancing toward Claire for her reaction to this guy.

Also- on an unrelated note- her name was Claire. This was the first time all night he could think of that he heard her name. Did she know his name? Shit. Did he ever introduce himself?

However, when the guy spoke again, he found he couldn't quite bite his tongue. "She didn't do anything, man. I made her a bite to eat and just wanted to make sure she got home fine. Get off her back." Personally, even though they hadn't even met, Blake thought this guy was a dick. Why on earth was she here?


JOHNATHAN BLAKE HOLMES