Edit

The West

The western part of the city is often home to the poorer residents. Here there is a certain grunge that permeates the town from the graffiti on the once cleaned brick buildings to the broken and unmaintained architecture. Crime runs high within the western half of town, making it the home of supernatural gangs of illicit activities. Such activities are rarely reported however, and most residents are distrustful of individual's of authorities, instead letting the powerful supernatural beings sort things out amongst themselves. Be careful wandering the Western streets after the sun falls.

What's You'll Find Here

Edit

Noah's Ark

Resting upon the harbor, Noah's Ark appears to be little more than an abandoned cargo ship. Accessible from an entrance hidden in the shadows, The Ark is a veritable Were-playground that specializes in fighting tournaments for all creatures great and small. With both singles and doubles tournaments to compete in, the title of Ark Champion is hotly contested amongst the Were population. If anything illegal is going on in the city it's sure to be happening within the back rooms or behind the ring-side bar.

Owner Aiden Tetradore

Co-owner Tobias Cain


Edit

Warehouse District

The warehouse district rests just upon the harbor within the city. Many of the warehouses belong to corporate companies although some are used for less the legal means. Be careful when wandering this district at night for many groups meet within those dark, dilapidated buildings. There are also whispers of hard to obtain goods being sold behind those closed doors but you have to know who's who to get an in!
:: the sharpest lives are the deadliest to lead
50.125.74.154Posted On February 11, 2017 at 1:33 PM by
AIDEN TETRADORE
aiden tetradore
Tetradore was hardly oblivious to the weight of that promise he had provided the lanky deviant. It was perhaps not a wholly good idea, or at least, Raven and Nadya would have been furious at him for even suggesting Tobias was able to get behind the wheel of a vehicle. Regardless, he strove if nothing but to ensure his best friend was capable of functioning in normal society, even if such efforts didn't always go as planned. He knew well the possibility that there might come a day in which Tetradore was not present within the boy's life, for some terrible reason or another, and as of such, he did what was best to set his companion up for success. His own thoughts were already turning with the semantics of teaching Tobias how to drive, getting that calendar, and finding an appropriately lackluster Honda when they reached the depths of those fairgrounds. He allowed himself to be pulled through the chaotically delightful smells that accompanied that row of food vendors, even if only half of them seemed to be open enough to craft those delectable substances Tetradore knew they both craved. In a way, he was hardly surprised but moments later when his childhood friend so presented him with a box of brownies with an utmost grin upon his features and yet, that nearly herbal scent was undeniable.

Still, even knowing what those brownies were, and what they would surely do to him and his companion, Tetradore found himself reaching towards them, delicately picking up that merch only to shove the brownie in his mouth. Whomever the owner of those goods was surely would regret not keeping their eyes upon that tin box better when they discovered it missing. Regardless, Tetradore feasted upon that delectable chocolate as he led the way down the front path of the fair grounds, distracted from that high that surely awaited him only by his best friend's inquiry of the small mechanical cars. A small frown crossed Tetradore's lips, before he nodded in agreement, fishing several dollar bills from his pocket to hand to the exhausted looking man at the front of the ride. Tetradore moved among those cars before settling into one he deemed his own, his hands gripping that steering wheel as he waited for those machines to come to life beneath his hands. He could hear the whizz of the machine above, the bumper car coming to life as he sharply turned the wheel, his foot pressing on the pedal with the same smooth control in which he so commanded their sports cars. Even from his distance, he was well aware of that shock that touched the features of his best friend that this car actually moved beneath his command.

A small simper traced his features as his car rushed quickly towards his friend's colliding solidly into the side of Tobias'. He heard that cry of surprise as the boy's entire car rocked at the impact, Tetradore all too quickly throwing that vehicle in reverse to send him away from his companion, fully eying the boy in an effort to find yet another unexpected spot to ram into his friend. Tetradore quite purposefully drove around his companion, fully intending to attack him next from behind only to find that, quite unexpectedly, that the deviant was driving backwards. But moment's later, Tobias collided into them, the Alpha so capable of feeling that shock entirely throughout the vehicle. A warm chuckle left his lips, that prospect that they'd both ran into each other was, somehow, entirely amusing. Their vehicles disentangled from each other but moment's later as Tetradore drove around the ring, watching his companion drive backwards with decided ease. It was, unexpected but, at least Tobi was able to do this relatively well. His own vehicle had collided into his companion's and vice versa several more times before that bumper car slowly came to a stop, refusing to even acknowledge his efforts to encourage it forward. A small frown traced his lips and yet, the man at the entrance called to them that their ride was over. A perhaps exaggerated sigh left his lips as he rose from the car, moving to collect his friend before the pair abandoned that ride altogether.

Tetradore hardly protested as his companion dragged him further into that carnival, only to find himself standing in front of a rather large tent. For a moment, he simply stared at that pale red and yellow colors of the tent. The very fabric itself seemed to be moving, even if Tetradore knew well it was a product of the sheer amount that he'd just consumed but moment's earlier. Damn, those brownies worked fast. The sound of his name dragged his gaze back to his friend, the Alpha striding in an entirely lackadaisical fashion towards the mirrors in front of his best friend. He watched his reflection within it, clearly distorted and yet, his companion's suspicion was met with little more than laughter. Tetradore, on the other hand, was entirely content to step out of the view of the mirror and, slowly, moving back in view, entirely amused by the way the reflection twisted and distorted with each movement of his body. He was quite content to amuse himself with this very facet as Tobias circled around the mirror, only to find there was but nothing on the other side at all. Still, it was Tobi's insistence that they should hunt that saw Tetradore shake his head. "No...no, they're inside, he insisted before reaching out to grab his companion's wrist, pulling him from the first mirror and further inside to all the others. "Look, Tobi, we're thin like trees!" He declared, snickering entirely as he positioned his companion in front of one particular mirror, the boy entirely content to wiggle his body if only for the way the reflection warped in turn.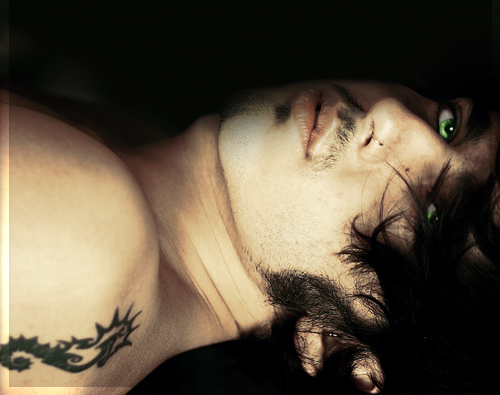 Replies

Post A Reply