Edit

The West

The western part of the city is often home to the poorer residents. Here there is a certain grunge that permeates the town from the graffiti on the once cleaned brick buildings to the broken and unmaintained architecture. Crime runs high within the western half of town, making it the home of supernatural gangs of illicit activities. Such activities are rarely reported however, and most residents are distrustful of individual's of authorities, instead letting the powerful supernatural beings sort things out amongst themselves. Be careful wandering the Western streets after the sun falls.

What's You'll Find Here

Edit

Noah's Ark

Resting upon the harbor, Noah's Ark appears to be little more than an abandoned cargo ship. Accessible from an entrance hidden in the shadows, The Ark is a veritable Were-playground that specializes in fighting tournaments for all creatures great and small. With both singles and doubles tournaments to compete in, the title of Ark Champion is hotly contested amongst the Were population. If anything illegal is going on in the city it's sure to be happening within the back rooms or behind the ring-side bar.

Owner Aiden Tetradore

Co-owner Tobias Cain


Edit

Warehouse District

The warehouse district rests just upon the harbor within the city. Many of the warehouses belong to corporate companies although some are used for less the legal means. Be careful when wandering this district at night for many groups meet within those dark, dilapidated buildings. There are also whispers of hard to obtain goods being sold behind those closed doors but you have to know who's who to get an in!
:: the sharpest lives are the deadliest to lead
50.125.74.154Posted On March 18, 2017 at 7:58 PM by
AIDEN TETRADORE
aiden tetradore
It was particularly rare when Tetradore was willing to give up that control of himself and fall under the sway of those illicit substances he so often assisted in transporting. The were-king was, perhaps, a bit particular of ensuring his mental capacity remained fully within his control at all times, nearly fearing that any hint of that muddled mind might allow him to once again be enslaved by some soul capable of control in the fashion so much of his life was dictated. But - she was dead and he was filled with emotions he had no capability to cope with, those brownies had been a sweet release he had so desperately needed. His present thoughts were, thankfully, sweetly amiss from that woman whom he'd but hours ago murdered, instead wholly content to wave in some nearly frantic fashion at the reflection in front of him with the declaration that he was tree - regardless of the simple fact that trees certainly were not as energetic as he suddenly found himself feeling. He watched his companion for several moments longer as the boy followed suite, waving about in a fashion to resemble his own antics. His attention drifted to the mirror across the way of his companion, this one having a unique ability to bloat his usually fit physique until Tetradore was utterly certain he was a balloon whom would float away if not constantly grounded. It was a ridiculous notion and yet, all the same, the man found himself bending down to pluck a rock from the ground as if this would somehow solidify him. Frankly, he wasn't wholly sure those brownies weren't laced with something else.

That sudden grasp of Tobias' hand upon his arm saw his attention shift from that conundrum of buoyancy as his companion questioned his own reality. The corner of Tetradore's lips twitched downwards ever so slightly before he pointed to the mirror behind him. "Don't look in that one then." He stated before his head tilted inquisitively. "If you don't exist...does that mean I don't exist?" It was quite the valid question, after all, Tobias certainly existed to him, unless both were non-existent together. He contemplated this very fact for some time as he trailed over Tobias, nearly running into another mirror that, in turn, quite distracted him. Before Tetradore knew it, he found himself turning towards his companion only to find the boy not there at all. Damn. He'd looked into that mirror didn't he? Tetradore should have told him to grab a rock too. A small pout crossed his lips as he turned in a circle, merely meeting more visions of himself in various states of impossibilities. It was his name that saw the man's gaze turn upwards, searching for the taller man and yet, the mirrors nearly met his own height. "Tobias?!" He inquired, starting to move in the general vicinity of that sound. It was hardly much to go off of but it was better being an adventurer in a forest of mirrors then stand there utterly alone.

"Marco!" He called out, taking a random pathway through the mirrors, all the while watching his reflection as he passed. That notion that Tobias was 'stuck' however, saw the man pause, a small frown on his face. He was supposed to say Polo. Had he really not taught Tobi how to play this game?! That declaration that Tobias was in the grass saw the man's gaze turn downwards, eying that small gap between mirror and ground. It took Tetradore a moment to flop unceremoniously upon that bed of grass beneath him, those vibrant eyes briefly meeting the dark ones of his companion. Fit though the gap?! Really?! He pushed his hand beneath the mirror, his fingers getting stuck just at the bone of his wrist. A soft huff left his lips and yet he hardly tried to push his hand any further. Instead, Tetradore flopped over onto his back, simply glancing at his companion. "Just...jump over the mirrors." He stated, pausing before adding, "No, don't do that, you'll break them all." A groan left his lips, "Finneee." He muttered, letting that darkness embrace him and yet, even he was hardly all that great at so judging his teleportation, the man reappearing above Tobias only to fall with a thud and a 'Opmh' onto the man. Well, that was not expected.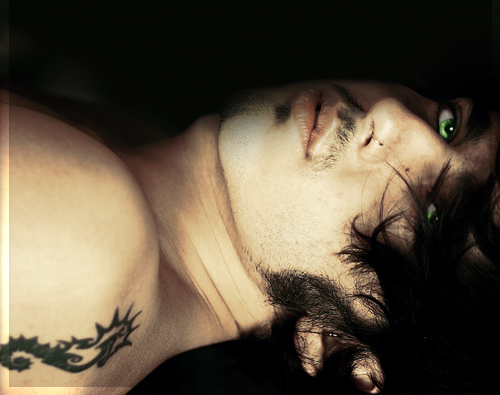 Replies

Post A Reply