Edit

The West

The western part of the city is often home to the poorer residents. Here there is a certain grunge that permeates the town from the graffiti on the once cleaned brick buildings to the broken and unmaintained architecture. Crime runs high within the western half of town, making it the home of supernatural gangs of illicit activities. Such activities are rarely reported however, and most residents are distrustful of individual's of authorities, instead letting the powerful supernatural beings sort things out amongst themselves. Be careful wandering the Western streets after the sun falls.

What's You'll Find Here

Edit

Noah's Ark

Resting upon the harbor, Noah's Ark appears to be little more than an abandoned cargo ship. Accessible from an entrance hidden in the shadows, The Ark is a veritable Were-playground that specializes in fighting tournaments for all creatures great and small. With both singles and doubles tournaments to compete in, the title of Ark Champion is hotly contested amongst the Were population. If anything illegal is going on in the city it's sure to be happening within the back rooms or behind the ring-side bar.

Owner Aiden Tetradore

Co-owner Tobias Cain


Edit

Warehouse District

The warehouse district rests just upon the harbor within the city. Many of the warehouses belong to corporate companies although some are used for less the legal means. Be careful when wandering this district at night for many groups meet within those dark, dilapidated buildings. There are also whispers of hard to obtain goods being sold behind those closed doors but you have to know who's who to get an in!
:: the sharpest lives are the deadliest to lead
50.125.74.154Posted On April 10, 2017 at 11:45 PM by
AIDEN TETRADORE
aiden tetradore
It wasn't often that Tetradore contemplated his own existence in any truly great fashion. The were-king himself had never anticipated to last long within this world, certainly not as that vampire woman's pet and yet...here he was. It was hardly absurd to him, the notion that, maybe, somewhere along the way he'd died and the last year or so of his life was but just some dream in which Nadya and Tobias still existed. In fact, the more he considered the possibility of this, the more he found it feasible. Maybe he didn't exist? Maybe he was just a ghost? Maybe this was what heaven was? No...maybe this was hell and that's why Nadya was so infatuated with a man who was dead set on ruining what bliss he had. Yes. This was definitely hell. He should drop that rock and maybe he'd float away to heaven or something. Slowly, he pulled that stone from his pocket, considering it before his best friend's broken lyrics tore through his own dismal thoughts. His head tilted to the side as he considered that notion that, maybe, just maybe, they were real for each other. The corner of his lips tilted downward slightly in a frown of contemplation before the man slowly nodded. "I think...as long as I'm real for you, then I guess this isn't so bad - even if it is hell." He admitted, providing his friend with a rather rare grin, that once nearly carefree boy hidden in the creases of his lips.

He was content to follow Tobias several steps deeper into the labyrinth, somehow losing the boy along the way as he paused to glimpse in mirrors that made him as short as a basket and others that made him as tall as Tobias himself. They were vastly entertaining for the man, at least, until he turned to notice that he was very much alone within that labyrinth of mirrors. That frown once again crossed his features, at least until the sound of his own name echoed within that tent. Oh! So Tobias hadn't deserted him entirely after all! He could hardly help the way in which he so called out for that 'Marco', fully expecting to rely on that 'Polo' while he attempted to find his closest companion, only for the entire notion to go over Tobias' head altogether! A soft sigh left his lips and yet, he hardly bothered to correct the deviant, instead merely falling into the grass in those moments later as Tobias attempted to move under the mirrors to close the distance between them. Those emerald eyes briefly met the chocolate ones of the boy's and yet, his insistence that Tetradore should move through the grass like a snake was met with shoving his hand beneath the small crack of the closest mirror - only to be thwarted by how terribly fat he was. He was fairly certain it was the mirror's fault, it made his head look the size of a watermelon.

That suggestion that Tobias merely go over the mirrors was met with a rather abrupt 'stop', Tetradore already capable of seeing the damage that would cause as he flipped over onto his back to stare upward at the ceiling of the tent. The boy's insistence that, rather, he come to his companion was met with a slow agreement and, after a few moments of contemplation, those shadows nearly ran towards his frame, enveloping him only for him to appear but seconds later above the boy. Gravity quickly took hold of his figure, sending him crashing to the ground only for, quite thankfully, Tobias himself to break Tetradore's fall. That groan that left the man's lips was met with a ready snicker, even as Tetradore scarcely saw a reason to move. "Oh come on now, we all need a good crushing sometimes. It helps limber you up." He retorted, those emerald eyes simply watching as the leaner man so struggled to get out from underneath him. That sudden grin saw one of his own dance upon the were-king's features, his head nodded quite firmly in the wake of it. "I did!" It was difficult. Far harder than it should have been and yet, any further celebratory statements were interrupted by -- what the fuck was that?

For a moment, Tetradore eyed the clown that so made an effort to scoot them from the maze with questioning disdain - at least until it spoke...and even then he still found the whole charade entirely questionable. This was likely one of those hell attendants sent to ensure they were...properly bothered or something. It was that whisper of his companion that drew his gaze, the man offering the boy but a small shrug of his shoulder. Cannibalism was certainly not above the boys, even if neither truly considered it thusly. He was fairly certain that, if eaten, his panther would quite enjoy that clown. He was a touch pudgy, the fat would surely be delectable. "Rawr." That simple word was uttered upon his lips as he considered that feline that rested just below the surface. Tetradore was rather certain they could hunt this man...but then the ring leader would get involved and they'd be put in cages and made to perform like those lions and tigers...hm...maybe..not. Tobias insistence that he might taste funny was met with a slow nod as the man turned, instead wandering in the direction the clown attempted to shoo them. He glanced over at his companion, a far better idea for their need for tasty treats had already blossomed upon his mind. "Let's go get donuts. Have you ever had a donut, Tobias? They are circular like this and covered in sugar and I bet they are fresh and we'll be the first ones there." His hands moved in the shape of an 'O', trying to show the boy and yet, really, the idea of being first in line was perhaps the best of all. Donuts were always made right before that morning rush!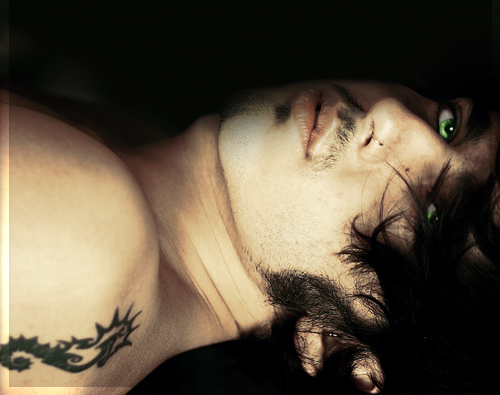 Replies

Post A Reply