Edit

The West

The western part of the city is often home to the poorer residents. Here there is a certain grunge that permeates the town from the graffiti on the once cleaned brick buildings to the broken and unmaintained architecture. Crime runs high within the western half of town, making it the home of supernatural gangs of illicit activities. Such activities are rarely reported however, and most residents are distrustful of individual's of authorities, instead letting the powerful supernatural beings sort things out amongst themselves. Be careful wandering the Western streets after the sun falls.

What's You'll Find Here

Edit

Noah's Ark

Resting upon the harbor, Noah's Ark appears to be little more than an abandoned cargo ship. Accessible from an entrance hidden in the shadows, The Ark is a veritable Were-playground that specializes in fighting tournaments for all creatures great and small. With both singles and doubles tournaments to compete in, the title of Ark Champion is hotly contested amongst the Were population. If anything illegal is going on in the city it's sure to be happening within the back rooms or behind the ring-side bar.

Owner Aiden Tetradore

Co-owner Tobias Cain


Edit

Warehouse District

The warehouse district rests just upon the harbor within the city. Many of the warehouses belong to corporate companies although some are used for less the legal means. Be careful when wandering this district at night for many groups meet within those dark, dilapidated buildings. There are also whispers of hard to obtain goods being sold behind those closed doors but you have to know who's who to get an in!
till this GD rig can't go no faster
72.168.177.62Posted On April 25, 2017 at 5:50 PM by Malia Tate


She was trying really hard with this whole finding out she was a were and then learning HOW to be a were instead of just a coyote. It had its up days and down days but she thought she was doing pretty good with it. She was also working on on her whole speaking her mind every time thing. It got her in trouble with Henry and she found out she didn't like that feeling of knowing he was mad at her because she was pushy and so she was working on it. She was having more fun now and meeting more people and weres. The panther was actually pretty fun to hang around with now that he wasn't just being sarcastic with her non stop and lecturing her about one thing or another. She was a little agitated that he wouldn't tell her more about the whole competition hate fest going on between him and Frost but maybe Frost would tell her. He was a robot when it came to emotion but so far he hadn't kept anything from her when she asked.

Frost hadn't found out yet that she even knew the panther so maybe she would continue to be able to keep both in her life. She didn't know what she would do if anyone ever asked her to choose. She didn't like to be told what to do to begin with and yes, her and the horse had made a deal but that didn't make her his slave or anything like that. She could hang out with whoever she wanted to and she would stand by that. He seemed almost surprised that she didn't question him more about the whole Frost thing but at least they could tease each other about the whole idea of him rubbing his scent on her. She called him a weirdo and he said that was a first. She smirked.

"Well, I doubt it'll be the last. Of course, you could always give me something to call you other than panther boy. You DO have a name, right? I'm Malia."

She figured it only fair if she was going to ask for his name that she tell him hers. That way they wouldn't just know each other as the coyote and the panther. After all, she wasn't just an animal anymore right? She was Malia, a were. She did notice something like disappointment on his features that she had chosen Frost as her alpha. Maybe if she had known what he was before that could have been different but she had made a deal and she was going to see it through. Didn't mean she couldn't still hang out with him though. At least he wasn't saying they could do that. He called her rich and she asked what that meant. He tried to explain it but instead ended up throwing out yet something else she didn't get. She tilted her head and scrunched up her nose.

"What's a kettle?"

She couldn't help her curiosity when he said that most of the time, siblings were the same species. She asked if he had a brother and he said he did in a manner of speaking. She scowled thoughtfully. She somehow figured that must mean he didn't mean in the normal sense. So Henry couldn't be his brother. That would only mean coincidence or Henry was made. It could have been him or his sister. She didn't want to pester him too much about it though cause then he would start asking her questions, like who she was talking about and she wasn't going to rat out Henry. She owed him that much. She shrugged when he asked why.

"Just wondering. Maybe if you had a younger brother or something, I could see if he was good looking."

She didn't know enough terms to say hot or anything like that and she was totally playing it off so he wouldn't ask any more questions anyway. She just wanted to steer the conversation away from Henry. Luckily they started talking about the alcohol next. He asked if she liked berries and she said yes and then he told her to stay put and he'd be right back. She watched with interest as he got up and walked over to the bar, noting the look that passed between the men before he came back over with another glass of something that smelled far better than what he had. She listened carefully and pulled the glass closer to her as he said what it was called. That didn't mean anything to her but it did smell good with only a hint of the nasty alcohol. She raised a brow at him suspiciously but decided to at least try it, taking a sip before her eyes widened and lit up.

"Mmm that's actually pretty good!"

Before she knew it, she was drinking it eagerly and after only a few minutes, it was long gone. She looked up at him, her smile from ear to ear.

"Can I have another?"

Leaning across the table, she narrowed her eyes at him, resting her chin on her hands as she rested her elbows on the table.

"Hey, don't you have a mate or something to get home to? What are you doing hanging out in bars at this time of night, anyway?"

Her tongue was feeling a little looser even than normal after only one drink. How fun this was going to be...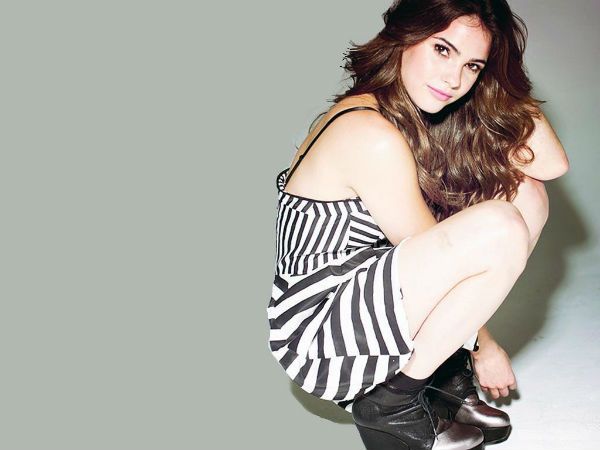 Replies

Post A Reply