and the sun also rises
101.191.228.189Posted On April 24, 2016 at 4:44 AM by Dorian Aragona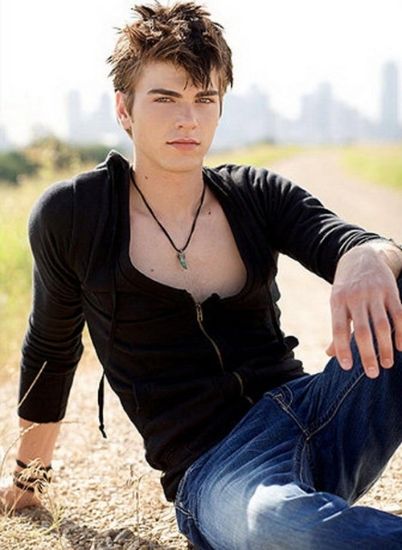 It is a rarity, he is sure, to hear a vampire speak of death and pleasure in such….dejecting tones- Dorian merely allowing his head to tilt to the side in an almost curious manner as he seems to consider the offered words with no small measure of seriousness all the same. What a strange creature he has found tonight. Then again, perhaps the world had simply changed since he had last bothered, or been allowed, to partake in it. The single vampire he remembered from his youth had been neither charming nor entirely literate and perhaps it is unfair in some sense to judge the clearly more modern vampire in front of him by those standards. It was a shame really, that he had already been forced to run from two of his comrades since arriving in this city and as such his wariness is surely justified all the same, even if potentially misplaced. It is that undercurrent of unseen pheromones that lessens the Faes desire to dismiss the Englishman so quickly however, Dorian oblivious entirely to this delicate interplay as he shifts marginally closer to the other man in the same manner one shifts towards any object that holds their fascination.

The man's explanation of what exactly it was he desired however momentarily sees the slate grey eyes of the Fae lift to the blue of the vampires own, one eyebrow curving upward in evident surprise at the words the man offers- his own in a fashion, turned back upon him with a meticulous ease that assured him that, on some level at least, the vampire before him possessed something of an education. It is the end of his sentence however, that seems to tease a simper of sorts for the Fae Prince, a chuckle humming smoothly within his chest and yet it is hardly a sound of derision- the man genuinely pleased by such a proclamation, if not amused by it. It had been….years since he had met anyone, man or woman, so overtly bold. Indeed bold was the term usually assigned to Dorian himself, perhaps one of the less scathing remarks his father had been fit to afford him with when not berating his illegitimate son's myriad of other weaknesses- at least to his eyes. For now however, his distant past holds little sway within his thoughts, the man far more intrigued by what lingers before him. He had never desired the bite of a vampire before, the notion that it might afford him any pleasure a distinctly foreign one, the claim seeming almost impossible and yet therein lay the very thing that made the idea so wholly captivating.

For now however, he remains silent, allowing the vampire to finish his offer- his assurance that he intended to leave Dorian alive offered with a sincerity the Fae found himself almost inclined to believe as the vampire shifted a mere touch closer again- gesturing away from the flames.

"I have never had a vampire before, nor has one ever had my blood."

He muses the words, smiling easily within the darkness, willing enough to accept this offered preposition, unconventional though it may be and yet the vampire's honesty in his desires, if anything, only seems to intrigue the Fae more. Were they within his palace in Naples he would have been entirely content to have had one of his servants simply bring this intriguing vampire to his room. If what Samantha said was true however, Naples was significantly outside walking distance, Dorian content to share the other man's bed instead- even despite such a thing being outside the norm. Truly he hopes it is far better than Samantha's couch.

"If you believe you are capable of making me desire your bite and that such a moment will be, as you said, the best I have ever felt-."

It is Dorian who moves to close the small distance between them now, momentarily surprised at the…..scent of the man. Cologne, after all, was a relatively modern invention the Fae had never yet experienced and yet it hardly sees him hesitate for long, finding it not displeasing all the same as he abruptly brings his lips to vampires own- his own powers assuring no one else should see his actions now. It is a fleeting kiss, a taste, no more than a tease truly, that sees him smile softly against the others man's lips before pulling back once more in a nearly languid fashion.

"- in the five hundred years I have been alive, then I think that I should like to feel it."

One hand simply gestures for the vampire to lead the way. Dorian is perhaps far more forthcoming the most of the vampires 'prey' and yet it is simply the nature of the Prince to indulge in those things he enjoys...




Dorian
Replies