:: But Your Temper's Just As Bad As Mine Is ::
124.149.188.31Posted On September 21, 2014 at 4:18 AM by Tobias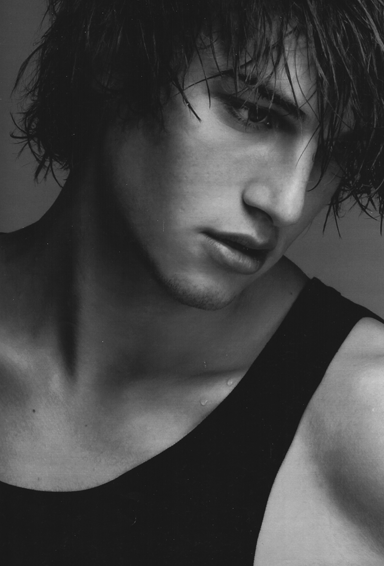 The touch of Nadya's voice against his own mind sees a momentary pause in the creatures grooming, the deep, rumbling husk of his purr halted sightly as her words see his head tilt ever so slightly as she claims he does not understand, eyes of amber gold seeking her own momentarily as she speaks of feline and of wolf and of why such things do not work, his feline features move to frown ever so slightly, a look of momentary confusion given to adorn his gold and black spotted form as he regards his pack mate. If feline and wolf are not supposed to be pack, if this….cannot be, then he is sure Tetra would not have permitted such a thing, the boys belief in his chosen Alpha so entirely absolute that he is never given to question the other man- assured that Birdie had been permitted into pack because Tetra had desired it and as such, it must be right. If Tetra wants Birdie then Tobi will see it so, he loyalty and dedication to his childhood companion entirely undeniable. As such he cannot perceive entirely why it is Nadya is unaccepting, his own words brushing against the panthers mind.

But Tetra…..wants Birdie….for pack. Tetra…said so.

His own tones remain gentle, responding in turn to the calmness of Naddy's manner. He is a watchful creature, cunning mind so readily reading that which is not said, perceiving the body language of others far more then the words they speak, often given to mimic those around him in some final attempt to connect with a world he cannot understand. He is aware perhaps, to some extent, that he is…different, that he is not as those around him and indeed his attempts to copy the expressions and words of others is little more than an attempt to fit in, to be as others, to be seen as…normal to some extent. As such his tone simply meets her own, the calm, gentle manner in which she speaks returned, his own form relaxed and even in this moment, displaying perhaps this better side of his nature in response to the display of her own. Her head moves away from his batting paws as he rolls back upon his feet, returning indeed to showering her with affection in this moment, playing upon that delicate tangle of emotion that exists between the pair, there frequent couplings, though needed now, surely having created a stronger, more stable bond between the pair, a certain….protectiveness perhaps ingrained so entirely within each- for the other and indeed it is this bond he plays upon now as he seeks to sooth her, unaware of her concern nor the pain she has suffered in regards to wolves, unable to understand this higher order thinking and emotion as the females continue to speak. One ear simply flicks, the only true indication of his watchfulness I this moment as Birdie continues to speak and he continues to offer his affections to the panther, seeking to sooth her bristling fur entirely to better…appease her, to curve her mind in a direction he prefers and desires. He is a cunning creature- one so often underestimated.

He is content to simply listen to the conversation, tail flicking every now and then when a harsh word or growing agitation is felt within either of the women, his own form a physical barrier between them in this moment as Birdie continues to hold herself tall, the creature approving perhaps of this stronger side of the companion he has chosen as he continues to sit beside Nadya until her head simply shook him away, the Leopard stepping aside in this moment as another purr vibrates from within at her acceptance of Birdie, moving forward to force her own submission as is her right, the spotted cat content to allow such a thing to occur. Rank, after all, is critical within a pack, such things must be understood and indeed it is accepted as such- that Birdie is to be the lowest amongst them, Tobias making no move to prevent Nadya throwing her shoulder against the wolf in an effort to knock her down. The manner in which Birdie moves to leap suddenly away however sees his own head tilt once more, the wolf rapidly licking submissively at Nadya's chin before bounding over to himself, her tail waving in such a frantic manner that Tobias is simply given to lean slightly away in surprise, unable to understand this wild waving of her appendage, unused to the body language of the wolf. The girl in turn, it would seem, having mistaken his affectionate grooming of Nadya as some sort of submissive gesture perhaps, seeking to mimic Tobias himself, unaware perhaps….of her inappropriateness in his regard, the leopards gesture…affectionate, reserved for certain occasions, a display of his closeness to Nadya as he had sought to engage a response from her, the canines actions entirely…bizarre to the leopard as he scowls.

Birdie….your…..butt is…broken….it is….wobbling.

One paw bats towards her tail in this moment, as if seeking to stop its excessive waving, his eyes readily distracted by such a thing as his own tail flicks, his desire to fall upon anything given to flicker and way seeing his pupils dilate slightly before he bats more playfully towards her once more, readily seeking to engage her in a game now, her continued movement appealing to the big cat as he hops playfully forward to swipe at her again, claws kept well within their sheaths, content to engage the girl despite Nadya's refusal to hunt, the pointed glare she offers him ignored in these moments before one big paw lifts to rest on Birdie, seeking to….hold her still.

Birdie….does not….lick Naddy….not for Birdie. We do….not lick…like that.

He does not have the words to explain the delicate nature of feline interaction nor why it is unacceptable for Birdie to do as she had done upon a pack member she is not yet close to, cats, it would seem, a far more…delicate species then wolves in regards to subtle communications. Her words however, that such licking is…honourable seems to placate him, content in her acceptance of her lower ranking even if it is perhaps not so entirely traditional, her form held lower then his own and Nadya's and as such the male is content in this- one paw reaching forward again to bat at her, seeking now to engage her entirely in play as he leaps back towards Nadya, shoulder pushing against her own seeking perhaps to engage both females in a game as he crouches low in preparation ot pounce upon whomever should make the mistake of moving first.



madness, as you know, is like gravity: all it takes is a little push
Replies