Edit

The West

The western part of the city is often home to the poorer residents. Here there is a certain grunge that permeates the town from the graffiti on the once cleaned brick buildings to the broken and unmaintained architecture. Crime runs high within the western half of town, making it the home of supernatural gangs of illicit activities. Such activities are rarely reported however, and most residents are distrustful of individual's of authorities, instead letting the powerful supernatural beings sort things out amongst themselves. Be careful wandering the Western streets after the sun falls.

What's You'll Find Here

Edit

Noah's Ark

Resting upon the harbor, Noah's Ark appears to be little more than an abandoned cargo ship. Accessible from an entrance hidden in the shadows, The Ark is a veritable Were-playground that specializes in fighting tournaments for all creatures great and small. With both singles and doubles tournaments to compete in, the title of Ark Champion is hotly contested amongst the Were population. If anything illegal is going on in the city it's sure to be happening within the back rooms or behind the ring-side bar.

Owner Aiden Tetradore

Co-owner Tobias Cain


Edit

Warehouse District

The warehouse district rests just upon the harbor within the city. Many of the warehouses belong to corporate companies although some are used for less the legal means. Be careful when wandering this district at night for many groups meet within those dark, dilapidated buildings. There are also whispers of hard to obtain goods being sold behind those closed doors but you have to know who's who to get an in!
:: the sharpest lives are the deadliest to lead
50.46.99.184Posted On October 10, 2016 at 11:21 PM by
AIDEN TETRADORE
aiden tetradore
That abrupt eruption of fur and gangly limbs certain served to set the already on edge feline in a state of utter panic. He remembered well that pressure the vampire woman was so capable of exerting, somehow stopping his ability to shift the way nature not only intended but to demanded of their kind. It was all but unbearable some nights, leaving even the often poised and composed man in a state of wild discontent. He hadn't anticipated such a reaction from the boy at his side, that icicle fear so gripped his heart - fear that she was still alive. It was the fear that she had forced this change upon his companion and soon, he'd feel that same pressure that kept him from being the man he often now preferred. His own ebony form was pulled back by his spotted companion, his paws entirely obeying the feline's request as he slid backwards several feet in response. It took him a moment, just as it did too his dearest friend, to so realize that it was not her that had so coaxed such a reaction in Tobias' frame. She remained still as ever, the broken carcass still resting against the edge of the building where Tetradore had left her and her affinities entirely void of inflicting all that torment and pain she had so put him through for so many years.

The feline settled back upon his haunches, entirely ignoring as Tobias struggled to so pull at his flesh and continue to tug him away from that unmoving form. Instead, the man's emerald gaze once again settled upon her figure, waiting with patience before even Tobias too noticed that peculiar stillness. His eyes slowly shifted to his companion as the boy settled at his side, the brush of Tobi's spotted flesh against his own ebony one somehow entirely reassuring in those few vulnerable moments in which he needed it most. That touch was grounding for the man, so pushing aside his own fears if only because he still had some responsibility to the feline at his side. A soft exhale so left his parted jaws as his form shifted ever so slightly from side to side. That inquiry remained within the air between them as the two men simply stared at that dreadful piece of their shared past. Finally, after a long moment of stillness, Tetradore nodded, his own voice a soft whisper for Tobias' mind alone - "I think so."

For a moment his gaze lingered upon the woman, just too as his body remained still as a statue beside his friend. Tetradore himself was still wrapping his own thoughts around Risque's death, the man hardly truly believing that the vampiric woman had finally met her end. Still, his emerald gaze flickered towards the horizon, noting the state of the sun as it begun to peak, letting those sweltering rays fill the sky with a plethora of colors. It was this very moment he had so been waiting for. He rose, slowly, to all fours, stepping towards the vampire's body till the man stood in front of her. He glanced back at his companion, motioning with his head towards her feet. "Help me move her? I want to see the sun light her in flames." Although Tetradore had certainly heard of the effects that golden sphere had on her kind, he'd never actually seen it first hand. It was symbolic, in a fashion that was entirely undeniable. Once upon a time, his life had virtually ended with his childhood home being bathed in flame and then again when Tobias and himself had set the liquor of Syn alight, and now, finally, it was fitting that it should come to a conclusion with the carcass of that same woman who'd caused so much to be enveloped in that same burning embrace. His teeth delicately took the edge of her jeans within his mouth, awaiting his friend to do the same before Tetradore began to drag the woman to her final funeral.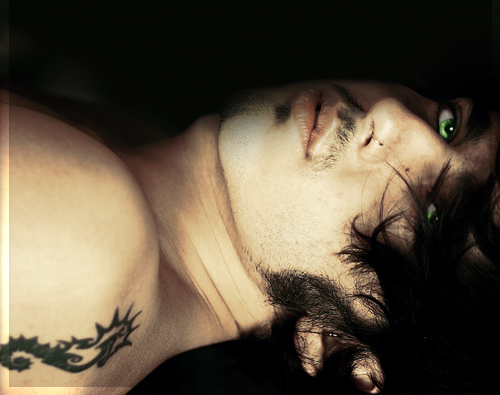 Replies

Post A Reply