Edit

The West

The western part of the city is often home to the poorer residents. Here there is a certain grunge that permeates the town from the graffiti on the once cleaned brick buildings to the broken and unmaintained architecture. Crime runs high within the western half of town, making it the home of supernatural gangs of illicit activities. Such activities are rarely reported however, and most residents are distrustful of individual's of authorities, instead letting the powerful supernatural beings sort things out amongst themselves. Be careful wandering the Western streets after the sun falls.

What's You'll Find Here

Edit

Noah's Ark

Resting upon the harbor, Noah's Ark appears to be little more than an abandoned cargo ship. Accessible from an entrance hidden in the shadows, The Ark is a veritable Were-playground that specializes in fighting tournaments for all creatures great and small. With both singles and doubles tournaments to compete in, the title of Ark Champion is hotly contested amongst the Were population. If anything illegal is going on in the city it's sure to be happening within the back rooms or behind the ring-side bar.

Owner Aiden Tetradore

Co-owner Tobias Cain


Edit

Warehouse District

The warehouse district rests just upon the harbor within the city. Many of the warehouses belong to corporate companies although some are used for less the legal means. Be careful when wandering this district at night for many groups meet within those dark, dilapidated buildings. There are also whispers of hard to obtain goods being sold behind those closed doors but you have to know who's who to get an in!
:: the sharpest lives are the deadliest to lead
50.46.99.184Posted On November 13, 2016 at 11:53 PM by
AIDEN TETRADORE
aiden tetradore
It was over in what felt like but mere breaths and yet, at the same convoluted moment, it seemed to last for infinity. Tetradore wanted to be done with that ivory flesh and yet, that distinct conclusion of this chapter of his life was entirely terrifying to him. She was all he had known for so long that to find himself venturing out into the world without that certainty of what his future would hold was daunting to say the least. A soft exhale left his maw as that once pristine flesh gave into the licking flames of that magically induced conflagration, turning to ashes to float upon the autumn zephyr. Just like that - she was gone. There was no coming back from this funeral. There was no lingering shadow in his mind that she was out there in the world biding her time before looking for him once again. No. It was over. Everything was over. For a moment, Tetradore was entirely lost in his thoughts of the finality of this all, the touch of Tobias' tail against his form was the only anchor he had in that sea of contemplations that threatened to overcome him. His emerald eyes slowly shifted from the remnants of his vampire mistress to his closest of companions as he offered that carnival he'd heard of floating in the western ward.

That eagerness to that deviant's voice hardly passed unnoticed and yet, Tetradore thought particularly little on if Tobias truly understood the concept of what the were-panther had offered to him. It didn't matter to him terribly if the leopard knew what to anticipate from those brightly colored lights or red and yellow tents. All that mattered to him was that he was not alone. It was that which he so dreaded in the aftermath of all that had occurred - as utterly ridiculous as it was. Still, the panther rose to all four feet, embracing that sudden touch of his companion's flesh against his skin. He leaned into that feline-like caress, that simple gesture of affection some how had a way of reassuring him that everything would be okay, even when he felt as if his world was falling apart at the seams when it should be stitching itself together. It was funny how things worked like that. Regardless, Tetradore was all too eager to leave the deck of that ship. It was only once they'd regained that warmth of the boat's interior and the heaters that pumped warm air through their halls that the were-king allowed that shift to overcome him. After all, a carnival could not be enjoyed to it's full extent as a cat, as comforting as such a form was to him in the present moment.

His gaze shifted towards his companion briefly before he gestured down the hallway. "I need to shower and get clothes. Meet me in the garage in a bit. You can pick out our car for the day." It was a small thing to occupy his companion whilst he washed the blood from his form, made the appropriate phone calls for the repair of the Red on the Water, and found something to cover his battered and burned caramel skin. He knew something as simple as choosing their vehicle would be utter delightful for the boy and too, he suspected Tobias would dwell over it long enough to quickly tend to his own needs. It took, in fact, exactly twenty-three minutes to clean his flesh, select a warm sweater and jeans, and find and pay someone to mend the bar of Red on The Water. It took two additional minutes to make his way down towards the large cargo room of the Ark where their plethora of vehicles were stored. There was a small yawn on his lips as he stepped over the threshold of that all too familiar room, he was exhausted from being up all night and the day before and yet, Tetradore was avoiding sleep as much as he was avoiding being alone. Thankfully, he doubted his companion would fret over something as insignificant as the last time his head had touched the pillow. "Tobias - which one?" He called out, stepping into the circle each of the vehicles faced, that eternal expression of placidity once again found it's home upon his features, all too content to push away those thoughts that plagued him for the future of what the carnival might have in store.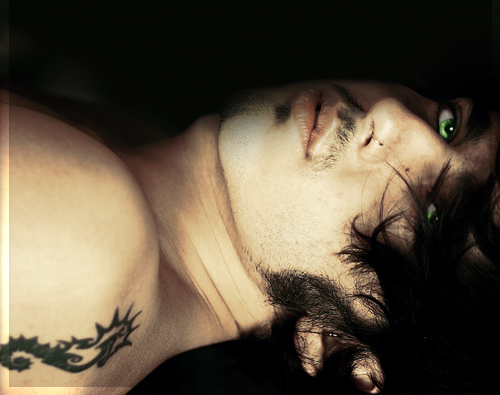 Replies

Post A Reply