Edit

The West

The western part of the city is often home to the poorer residents. Here there is a certain grunge that permeates the town from the graffiti on the once cleaned brick buildings to the broken and unmaintained architecture. Crime runs high within the western half of town, making it the home of supernatural gangs of illicit activities. Such activities are rarely reported however, and most residents are distrustful of individual's of authorities, instead letting the powerful supernatural beings sort things out amongst themselves. Be careful wandering the Western streets after the sun falls.

What's You'll Find Here

Edit

Noah's Ark

Resting upon the harbor, Noah's Ark appears to be little more than an abandoned cargo ship. Accessible from an entrance hidden in the shadows, The Ark is a veritable Were-playground that specializes in fighting tournaments for all creatures great and small. With both singles and doubles tournaments to compete in, the title of Ark Champion is hotly contested amongst the Were population. If anything illegal is going on in the city it's sure to be happening within the back rooms or behind the ring-side bar.

Owner Aiden Tetradore

Co-owner Tobias Cain


Edit

Warehouse District

The warehouse district rests just upon the harbor within the city. Many of the warehouses belong to corporate companies although some are used for less the legal means. Be careful when wandering this district at night for many groups meet within those dark, dilapidated buildings. There are also whispers of hard to obtain goods being sold behind those closed doors but you have to know who's who to get an in!
:: the sharpest lives are the deadliest to lead
50.35.0.252Posted On May 22, 2017 at 12:00 AM by
AIDEN TETRADORE
aiden tetradore
Tetradore was altogether used to his best friend's reckless and, often times, unorthodox behavior. Tobias had never truly had much sanity to begin with but, in his youth, such had hardly mattered to the young boy. In fact, he had been more akin to embrace the leopard if only for those drastic differences. They were always off on some sort of adventure, that mysterious boy who'd begun to follow him had never been scared of him for who he was like the other children. Tobias had allowed him a sort of freedom that the young would-be-alpha had so desperately needed. Even now, that they had aged and established some sort of life, he'd never really expected his companion to be any different then he was. Sure, he'd made an effort to teach the man what he deemed necessary for life and yet, Tetradore was never truly concerned for his best friend's welfare - his faith entirely steadfast. His mind, even now, was perhaps far too laden with the intoxication of the contents within that chocolate they'd eaten to think anything at all of that pounding upon the back door of the trailer, the feline far more amused then perturbed by that decidedly loud banging. After all, he knew what his companion wanted and, soon enough the donuts were in hand and Tobias was in tow, ushered on by that delectably sweet dough.

He watched as the man near inhaled the first of the donuts in that bag, though he was hardly surprised truly. Tobias' sweet tooth was perhaps the only one that rivaled his own. He knew just as well that the moment the man was finished, his own treats were up for grabs, regardless of whether or not he intended to share. It was a cat eat cat world, prompting the were-King to near shove the rest of that donut within his mouth, even if it caused his cheeks to puff up ever so slightly like a chipmunk as he attempted to chew on that far greater bite then he normally would have indulged in. He hardly expected that haphazard stalking, the man entirely under the mindset that if the donut was in his mouth, surely Tobias wouldn't attempt to steal it from him any further - right? Oh how he should have known better. The man was oblivious to the way his companion settled within that grass, his steps continuing forward through those high, thick reeds only to watch in an entirely startled fashion as the man flew past him and tumbling into that grass on what appeared as some sort of crazed suicide mission.

The man could hardly help the way his head tilted backwards, that laughter bubbling from his lips in a sort of joyousness that entirely failed to exist within his sober mind. The world was usually a near colossal weight upon his shoulders and yet, in that simple moment, it was just him and his best friend beneath in the early morning dimness with sweets in hand - the exact sort of thing he so desperately had wanted when he stumbled upon that woman he had so naively thought he'd murdered. His balance, however, was hardly all that steady, the man toppled into the grass only to announce but moments later that he still had donuts, that declaration served to bring with it the quick sound of footfalls, Tetradore entirely assured that Tobias would hardly leave him in the grass alone when there was still sweets to be gorged upon. A devilish sort of grin crossed his features as that shaggy haired man stepped into his view, those bright green eyes met the dark brown ones of his companion - that delight upon Tobias hissing features only served to produce a chuckle on his own lips.

He was hardly perturbed, really, as his friend collapsed at his side, those claws slicing through the bag as if it was mere tissue paper. Those donuts fell and with them came the powdery remains that had nestled in the corner of the bag, coating that shirt with sugar as much as the donuts themselves did. An almost inquisitive glance crossed Tetradore's features as he eyed the bottom of that bag in a vague hint of confusion. A small shrug crossed his shoulders before the bag was tossed aside. After all, there were no donuts left within it, what use did he have for it? His attention turned towards his companion, reaching for that donut he was offered only to pluck that half from the man's fingers. "Oh, good." He commented idly, munching quite happily upon that treat. He knew well how decidedly rare it was for his companion to share. Food was a hot commodity around them - the two more more content to bicker over that than anything else. He was content to nibble upon his own donut, his attention shifted to the one his companion had only after finishing his own. His features twisted into a noticeable frown as Tobias so insisted he might get fat. "That's not fair." He complained, reaching out in an effort to steal it from his companion. After all, he got half of the last one. Surely he deserved half of this one too! His efforts, however, seemed to have failed entirely as Tobi shoved the donut in his mouth before proceeding to lick the sugar from his fingers, the were King offered little more than a huff, his lip extruding in a small pout before his gaze turned back upwards towards that sky. That sound of a yawn on Tobias lips was followed not long after with one of his own, the man merely shrugged at that question, rolling onto his side, "I don't see any reason why not." He muttered, entirely unconcerned of that place the two men found themselves in. Sleep, it seemed, had a hold on him. After all, his day had been nothing short of utterly exhausting.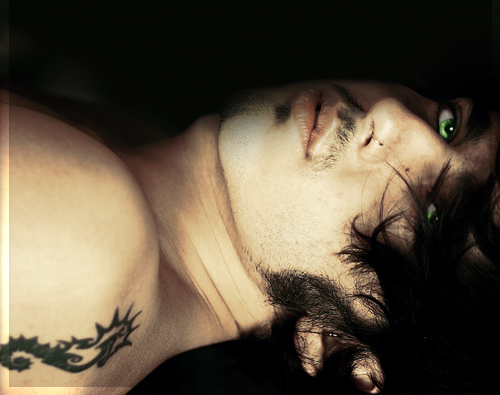 Post A Reply