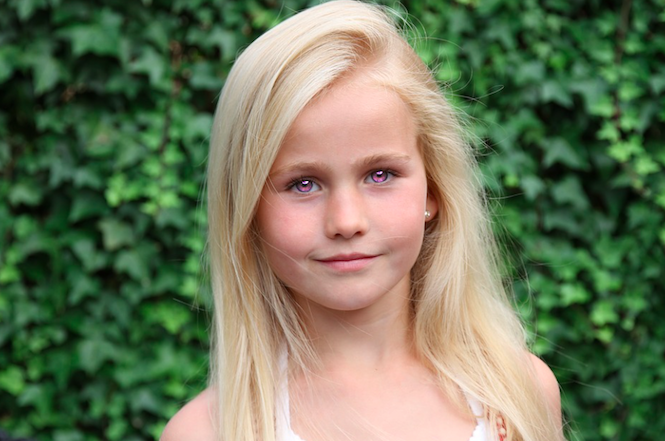 (dear friend it will be alright, please just stay by my side)
(you might think the world is tumbling down, but it's not)
The violet eyed girl was no stranger to testing boundaries, as like so many other children. And those same strange violet eyes watch the man, as if thinking of what boundaries she ought to test today. Maeve was trying to figure out her own personality, trying on different hats as she encounters new faces. A still simper from Tetradore, lopsided grins from Tobi, grace from Audette, and maybe even a little hot lava from Mira. And now, now Maeve tries on that personality of Frost, seeing, perhaps how the violet eyed girl may like it. Her mimicking, a talent so many children possessed, causes a smile to leak through her lips. This Frost was certainly an interesting man. Still, she keeps a careful watch on him with those violet eyes of hers, tilting that head adorned with snowy locks if only slightly.

Children were born to test boundaries, making the violet eyed fae girl no different than her peers, even if, the truth of the matter is, Maeve is far, far different than any other children her age. The gossamer haired child would learn that in time, but for now, she is content to be apart of the crowd.

A simper finds her, brightening her delicate features, so unaware of his Alpha status. The amethyst eyed child watches Frost for a response. Maeve bases all of her assumptions on her life experience. Life experience that has, so far, been short and sweet and made of happiness and smiles. She is naive although there is no stupidity there, she has yet to develop and grow, to know what each expression means. She keeps assuming he will smile at her and say something nice as so many have, but he does not. Instead, he keeps looking at her with stoic expressions and offering cold, distant responses. But Maeve is not afraid. She is once more almost taken aback by his cold voice, if only for a second, but that child like curiosity within her is too strong a spark to simply dull, craftily engraved within her own smile. She dithers lightly on those ballerina feet. "And I wasn't asking you," she says then, those eyebrows raising impishly over those bright eyes.

They were odd eyes, much like his own. Pretty eyes.
Eyes had a way of staring, unwavering, in a way only children can.

Her smile is set firmly in place upon her pale face, as if even he could not shake it. The blonde smirks a little, undeterred by his reply it would seem, if anything it excites her, the strange summer child. "Then I will not concern myself with it, Tall one," she says.
Perhaps not friends, not quite yet.

Her hand is so small with his, despite the way their skin tone seems to almost match. Strange still how much they truly look alike. Perhaps it was both the magic in their veins, though one be a fae and one be a were. But there would be no way for her to suppress a giggle amongst the subject of trolls being thought up. An image of the Alpha Frost being under a bridge and waiting for unaware travelers to cross. Only to jump out with a face nearly as grumpy as the one he wears now upon his face demanding some sort of payment. "You could make a lot of money as a troll," she says then, still with a simper upon her lips as she tilts that head only slightly to the side, as if playing a game.

"Times are changing?" She asks Nadya, looking up at her with strange eyes of violet. For someone so young, Maeve has hardly experienced anything in her life to say that things have changed. Is this how the rest of her life would be? Nothing ever staying the same? It is then those eyes shift to Frost as he speaks. "Yes, Alpha Frost," she says. It was almost fun, playing that Frost was the leader of everything. Little did she know he was actually leader of a pack, and had many at his orders.

Maeve bounced off to class then, stretching with the other children. "What's your name?" One asks. "I like your ears, they're cute." Says another. Nadya then steps into the classroom. Maeve nods in response to her words. "I will try," she says with a smile. Maeve moves through class, hip hop was certainly not her strong suit, but with the help of her fellow classmates, the fae child starts to quickly pick up on the choreography.

The ballet class was much more her style. Maeve moved with fluid ease and grace, much of it afforded to her own supernatural species, and the rest afforded to her early training and constant dedication to her craft. It felt good to be dancing again, that much the little fae knew for certain. "Thank you, Nadya," she says when the classes had ended for the day. "Sure!" She says then excitedly, but that smile falls slightly upon her face. "Nadya...I haven't met many fae...hardly any...what if I make a fool of myself?" She says, twiddling her hands together. "I still want to meet him though."