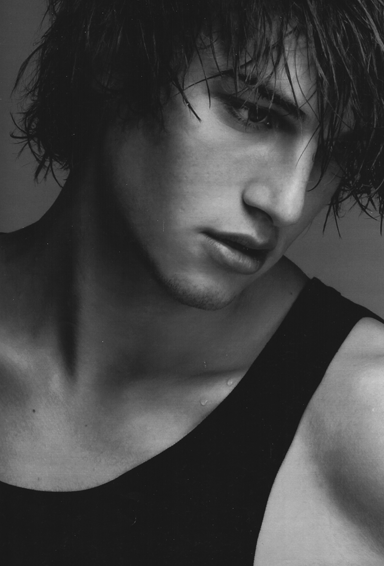 That very chaos that seemed to surround the pair and their efforts to pilfer that hair was evidently all but lost upon the deviant boy. Tobias seeming to near relish in that veritable excitement as the trio clattered and crashed about that trailer. Tobias attempting to wrestle himself away from the angry Italian woman while Raven did battle with a scarf that had become entangled around her head. Tobias hurriedly seeking that exit only a few moments later, shouting for his mate to open the door before all but hauling Raven away from the other woman. Tobias was quick to close that door and grasp the nearest broom, jamming that handle beneath it to prevent the door being opened any time soon. That, in the least, would surely slow the woman down if Raven's own tossing off her had failed to do so. The rest of those carnival folk sure to realise, sooner rather than later, that she was missing and yet Tobias and his fiance were sure to be missing by then. The deviant seeming decidedly pleased with himself in the wake of that escape. As if the mess and panic and terror he had near single handedly created was hardly of any concern to him. Tobias often failing to make that very connection between his actions and those resulting emotions. Consequences, in turn, often utterly uncomprehended. The boy seeming near oblivious to his companions distress in this all together. His own thoughts so clearly inclined to be elsewhere as his lips pressed to her own in that stolen kiss. Raven seeming all the more flustered as he pulled away.

Those very words that seemed to follow prompted the very tilt of the deviants head, those long lashing of dark hair falling readily into his near equally dark eyes as his gaze lingered upon her. Though just how much he was or was not paying attention to so remained to be seen. His mind struggling to comprehend those very words he was offered even despite the slow, simple pace with which Raven spoke. The curly-haired woman long since having near mastered speaking in just the way he understood and yet the sheer amount of words she offered only further seemed to perplex him. Tobias, perhaps, understanding more then he truly desired to show. A part of him readily seeming to understand she was....displeased with him. Because of the lady. Even if he did not fully comprehend why. Raven's name suddenly uttered from his lips. The young woman's own words halted then. Tobias, it seemed, having found a brief, fleeting moment of clarity. Even between those stuttered words. His golden-hued gaze firm upon her own with that single utterance of love he was sure she needed to hear and too- that very indication that he understood that marriage and that role of husband. This, perhaps, the first time he had ever shown any real understanding of the roll to be thrust upon him. Tobias, it seemed, far more aware of those events around him then any truly believed the boy capable off. Even if he had chosen the middle of a legitimate circus to declare it.

He felt the soft brush off her hand against his hair, pushing aside a few stray locks and yet he hardly moved to flinch away. Raven one of the few he was willing to allow to touch him in any sense. Her hand resting against his cheek with her own assurance she loved him in turn.. Tobias drawing her easily closer to press his lips to her forehead in that truly gentle gesture, one almost intimate for that time and place and yet, sometimes, he so effortlessly understood just what she might need in that moment- even if that gold had faded from his eyes. His insistence he would protect her, even from chairs, seemed to prompt that chuckle from within her, her arms wrapping about his waist as his own fingers toyed with that ring on his hand. His understanding of that very ring, in turn, readily displayed then. Raven readily seeming to attempt to coax that hug from him, Tobias lifting his arms to wrap about her as she seemed to desire, his lip tugged into a crooked sort of grin as he did. He liked holding her. He liked that feeling, that closeness, even if he didn't always understand how to ask for it or indeed- know quite when he desired it. That very world seeming hardly to exist for just that moment in time as he held his mate against him. Raven softly insisting he was right. Tobias so delighting in hearing that word. He liked to be right. Right was a good thing to be. His head nodded at that insistence. He understood that desire to protect. Those instincts eternally strong within him. Birdie very much HIS thing to protect. His thing. Always. Yes. Tobias oblivious to those dark thoughts that turned within her as his hand nestled in her own.

That query on just what he wanted to do as she led him from the steps seemed to prompt that head tilt once more, Tobias seeming to consider that very question as his gaze flickered from that circus, to the car, to Raven herself and back again. The banging of that circus woman, now sadly beardless, all but forgotten in the wake of those crowds. Tobias content to lift his hand to point back toward that shiny sports car then before tugging Raven softly towards it with that clear insistence that home sounded like the best idea.

"Car and fun....at palace."

His head nodded in assurance. As if further convincing himself off that very idea. Tobias having come to enjoy that palace in some regard. The lanky leopard seeming to find great fascination in continuing to order those foods from the staff until Raven demanded he stop. The boy finding equal delight in those gardens that went for miles even if Birdie so insisted he was not allowed to be a leopard within them. The idea of fun back at that palace suddenly seeming far more appealing then the noise of that circus and the crowds that surrounded them. The bearded womans pack sure to find them in turn. Tobias sure they could not find them at all if they were not here. That pilfered prize nestled safely within his pocket as he moved to lead the way back to the car to settle in that passenger seat once more beside his mate. Later, perhaps, he would tell this story to Tetra. Yes. Tetra would like this story he was sure.




madness, as you know, is like gravity: all it takes is a little push