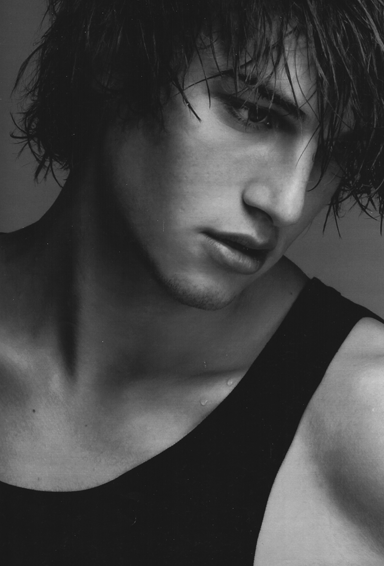 The matter of men and women was a decidedly curious topic for the lanky Leopard. Tobias seeming to hold a decidedly old-fashioned view of those roles of boys and girls and yet the boy so hardly strove to be as such, no part of the deviant believing he was, in any fashion, better then his mate or any other woman. Rather Tobias so understood the world in a matter of black and white. Some things he was sure off- if only because he lacked any ability to think critically about them in any sense. Blue was for boys. Pink was for girls. Dresses were for girls. Dresses were not for boys. Girls cared for children. Boys told them the children were nice. Tobias so simply having come to understand those views from the world around him. They were simplistic, basic and made a decided amount of sense to his own fractured mind. Tobias simply incapable of the sort of critical thought and modern thinking upon the gender roles of society to believe any differently. Such views, perhaps, born from naivety and innocence, rather then any sort of disdain and yet he was sure of them, as Tobias was sure of all things he believed he knew. This was a boys car. It had to be. If only because he had never seen a woman drive one. That was the entirety off his thinking upon the matter. That very scowl his mate offered him readily seeing his own features frown in confusion. Birdie distinctly displeased with him. Tobias failing make any connection between his own words and that deserved scowl he was rewarded with. Raven insisting girls could drive this sort of car even if Tetradore had failed to buy her one. That very thinking seeming to encourage several long moments of silence from the Leopard before his shoulders lifted in that haphazard shrug.

"It is because....your a girl."

Some arguments, it seemed, were destined to go around in circles. The sudden voice on that GPS seemed to draw the young man's attention. Tobias eyeing that curious line that had appeared on the screen to direct them. His fascination with lines seeming to coax that lopsided grin to his features, his finger reaching out to trace over it in a clearly excited fashion. Lines were wonderful things. The acceleration of the car as they reached that highway readily seemed to delight him. Tobias' adoration for all things mechanical surely clear in that moment. For all he was, and was not, the young man seemed to relish those fast cars and the illegal street racing himself and Tetradore so often participated in. He had generally been his best friends right hand man, in both cars and life itself. Tobias encouraging Raven to go only faster. That idle muttering of sorts at last fell from his lips. The Leopard content to carry out that conversation with himself for near half that journey before settling into the seat to enjoy that short trip out to the circus.

The sight of that big top and caravans and other small tents readily seemed to excite the deviant. That car no sooner within the parking lot then Tobias was content to all but leap out of it, his hand reaching for his mates own to drag her along with him lest she be left behind. Tobias, for all his excitement, unwilling to leave his mate behind or allow her to linger too close to any other men. The young man distinctly...protective of what he believed to be his own. Raven insistence she needed to lock the car saw Tobias pause long enough to allow her to fumble with the keys and lock it. His own dark eyes searching that crowded field with its music and lights and animals and people for the singular bearded woman they desired. That trailer on the far side with her picture upon it, followed by the woman herself stepping out readily seeing his hand raise to point towards her. Birdie's name on his lips.

His efforts to head toward the woman were abruptly halted by his mate's fingers catching in the collar off his shirt and hauling him backward. Raven insisting they were not to scare her. Tobias' own gaze shifting from Raven to the woman and back again as if attempting to decide how serious Raven was about that very demand. The idea that the woman's pack might somehow assault them hardly a cause for concern. Tobias assured such a pack could hardly be very powerful, the boy assured the majority of those beings were hardly Were's to begin with and yet his head nodded all the same. Tobias content to lead the way toward the woman at a far slower pace. The deviant hardly caring for where they were or were not supposed to be. His figure remaining close to his mate all the same. His own lips eagerly parted as they reached the bearded woman, only for Raven to attempt that Italian language. Tobias staring blankly toward her for several moments. Those words decidedly foreign to him. That confusion clear on his features as he turned back toward the other woman, his dark gaze meeting her own.

"We want....your face."

Well. They did.



madness, as you know, is like gravity: all it takes is a little push