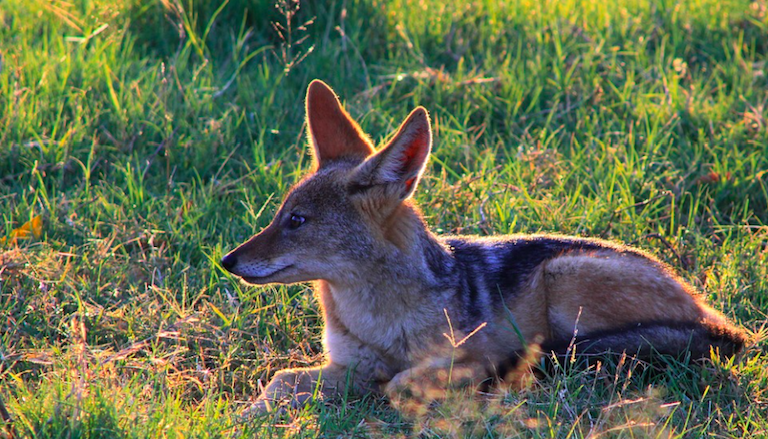 Those golden eyes watch the horse carefully. Watches as the horse shifts his long legs underneath him. Were horses were not exactly a foreign concept to the jackal, after all, Marcelo was an old creature, even if his looks depict him to be nothing older than a teen. He had been hunted by Dark hunters and their were steeds, but this is the first time the golden amber eyed jackal was up close and personal with a were horse without trying not get trampled. Well, of course, whether or not this session would end in the trampling of Marcelo by said were horse would remain to be seen, a realistic ending to this engagement never the less. He darts in and around his legs as the horse snorts and Marcelo resists a chuckle. He was a gruff thing wasn't he?

He stops only when they reach the water trough, front legs raising as those paws are placed on the rim to peer down at the liquid below with golden amber eyes. Those same eyes with an almost honey like hue flicker upwards, still watching the horse, as trust between the two males has clearly not been established and with good reason. Marcelo was a thief after all. It is only the sound of metal against metal that sees those large ears atop his head swivel forward, tilting slightly to the side. "Best in show?" He jests, those teeth showing once more in something akin to a smile. "Because I would say so," he says and attempts a wink, his vocals clearly joking, but really, Marcelo just needed to learn when to shut up.

Golden amber eyes blink almost innocently at the horse, animals so akin to sensing the emotions of others, and he could tell there was some sense of annoying there. Marcelo really always had been quite gifted at providing such an emotion in others. It was truly a talent and one he proudly shared with others, much to their dismay. "My, my, this is only our first date, and already we are getting personal? You haven't even taken me to dinner." The golden eyes jackal says in response to the question the stallion certainly had every right to ask him. The red gold jackal with a back of ebony and silver was an idiot. But even then, Marcelo, in his vanity, believes he is perfect in every way, even if this is not exactly the truth. He dreams that some day of being able to glance in someone's direction and this would be enough for them to leap at his desires. Full go high hopes with no actual way to achieve them. This is Marcelo.

He watches that eye lift with his golden gaze, an almost lazy sort of grin on his face. Safety, or the lack thereof is a concept that has always escaped Marcelo. What reason does he have to doubt his immortality? Even though his bones are bones that will grow and eventually degrade just like everyone else's, even if he manages to live for a thousand years more. The jackal looks up at Frost then, thinking, perhaps, he would let the man on in a bit of his secrets. "I have been considered to be quite an accomplished thief," he says, golden eyes looking at the stallion that hides a man within. "Though I enjoy it, stealing without a purpose has become...boring," he says, and it is the truth. To the kleptomaniac, stealing was as natural and as easy as breathing, but there was no challenge to it, and hadn't been some for quite a long time. If Frost found the skill useful, Marcelo would dutifully use it for the stallion and put himself to work. Eternity is a long without having much to do. And at the end of the day, Marcelo finds the worst insult that someone could him (perhaps second only to ugly) would be boring.

The discussion of pack usefulness is unsurprising to the little jackal. It was logical for an alpha to have high expectations of his packs members, it has been the pattern of what Marcelo has seen in every pack he has joined, from the were coyote natives of the wilderness, to the rag tag group of rascals he hung out with in the streets of Paris. It was always the same. Marcelo is, for once, quiet, if only for a moment, letting the words settle upon him. "Makes sense, who would want to be in a pack that didn't accomplish anything?" He asked. Of course, there had been a group that Marcelo had ran with, where, for a very large chunk of time, all they was nothing. Nothing, but drink, smoke, and occasionally they were hired by Dark Hunters or vampires for jobs that only a were could accomplish. Other than that, they had sat around doing nothing until the next job came around. Marcelo hardly thought this would be the case with Frost.

He smiles, one of the first that the jackal has seen upon his lips. Impress him? Well, Marcelo would have his work cut out for himself now wouldn't he? Golden eyes hardly waiver for the large stallion as he stares up at him. "I suppose, impressing you would depend upon two things: what is it that you need taken? And who do you need it to be taken from?"

Marcelo Lucas Rumeir
image by beesmurf