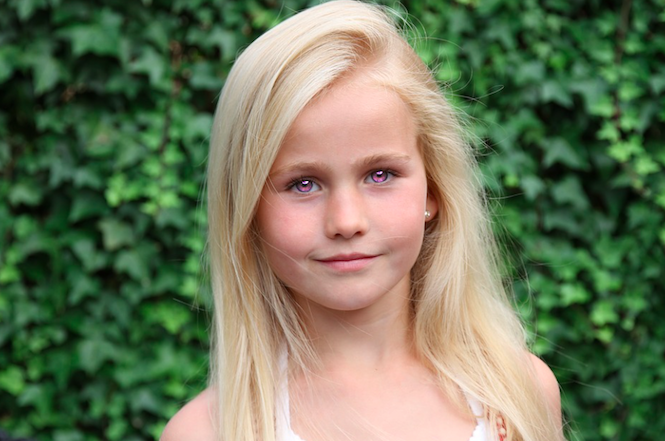 (dear friend it will be alright, please just stay by my side)
(you might think the world is tumbling down, but it's not)
Radiant smile and bright violet eyes looking out from that pale skin adorned with near snowy hair. To the outside world, Maeve was a simple child. Sure, maybe a bit off, with those eyes of violet, that slight build, she was always smaller than the other children. There was a way she moved too, almost too graceful, as if she never really stopped dancing even after she left the studio. The way that white golden hair shaped around her pale face, as if each strand held and shined by magic. The pale chid was undoubtedly gifted. This could be the reason Maeve has often been singled out as someone strange, her classmates unsure what to think of her, whispering with hands cupped to another's ear as they gestured to Maeve's strange violet eyes, and delicately pointed ears, and skin as pale as porcelain. And poor, sweet Maeve, she tried to take in all in stride, as a smile grew fainter upon her cheeks.

The golden haired child looks to Anna's crystalline gaze with her own of amethyst. It would be an understatement to say that Maeve was pleased to see Anna out here in the park today. She sits upon the monkey bar as graceful as the supernatural breed she was as she looks to the other blonde with something a bit more than just simple joy. Anna quickly comes to join her. Maeve was well aware that Anna was a vampire, those sharpened fae senses, but Maeve was not so cruel t ever assume the worst of someone. Anna was her friend, of this she was more than certain.

"Aww," she says halfway to disappointment before her face brightens once more. "Another time then," she says. Oh, Maeve, forever the optimist. "Ive never been to a late tea party," she admits, rather, Maeve has hardly ever been to a tea party at all except the fake ones she held with paper cups and stuffed animals.

Maeve looks at her curiously, when Anna asks her question. "I am not sure that I do," she admits, trying to recall the name but coming up quite short in that department. But it seemed irrelevant of whether or not Maeve knew this particular clapping game because it looked as if the blonde, little vampire was going to teach her anyway. Maeve mimes her hand, placing them upwards like her own. The fae child follows suit and crosses her arms over her shoulders, doing her best to mimic Anna, hardly wanting to disappoint one of her friends. Legs are pated, hands clap together. It seems simple enough, and Maeve performs the action two more times to ensure she has done it correctly before listening to further instructions. Maeve listens to her words carefully with delicately pointed ears, giggling slightly as she continues the hand clapping just as Anna had taught her.

The girls laugh with one another, Maeve's contentment with the girl visibile, no matter what species she was, and no matter what this species typically ate. The blonde little girl was blind to it. "Oh yes, I know one," she says, embarrassed that there was no way she knew as many as Anna did. Hardly thinking about how many years her vampire friend has actually lived. Maeve holds her hands out from her body, palms facing upwards towards the sky. "Lay one hand on top of mine, palm up, and one below mine, palm up," she instructs. "Now we take turns clapping the other person's hand," she says. "And we sing: "Down by the riverside of hanky panky, where the bull frogs jump from bank to bank. With an eeps, ipes, opes, opps. One fell in and went kerplops!" She says laughing. Maeve then grabs Anna's hands with her own and violet finds blue once more. "Anna, I am so glad you found me today and I am happy we are friends," she says, before her stomach does a nervous belly flop. "We are friends, right?"