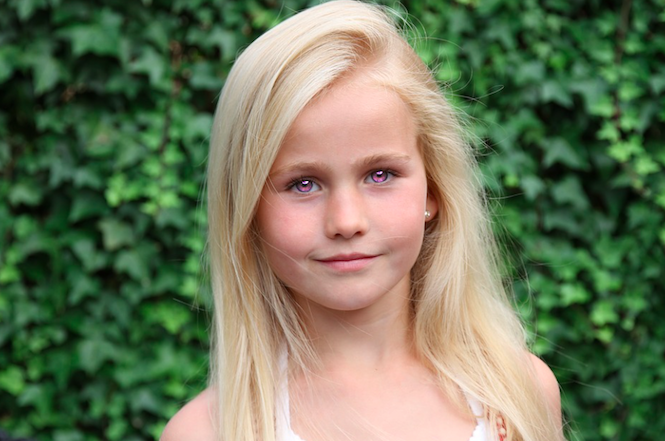 (dear friend it will be alright, please just stay by my side)
(you might think the world is tumbling down, but it's not)
She came to Sacrosanct a creature of fear, with a jitterbug heart and eyes that were never still, she had run away from her foster home and had stated that she was never going back. But then she met Tobi, and Roman, and Mira, and Tetra, and Raven, causing that little heart to settle in her chest to a gentle sway and those eyes opened wide to embrace the scenery. She has grown a lot in the past year, and it shows in the way she carries herself, as if she felt more sure, more certain. Maeve was still Maeve, just a little older and little smarter, and a little more confident.

She looks at him and a smile is brought to her lips, a beautiful, dreamy, ethereal smile that folded over the flesh and encompassed the entirety of that delicate, vulnerable face. "I hope I am pretty like Mira one day," she says, so unaware of her blessings. Maeve is small for now, but she will grow to be beautiful in her own right, maybe not quite like Mira, but like Maeve none the less.

Maeve moves effortlessly through the ark, her voice though not loud, carries in lilting soprano tones through the large cargo ship. Tetra always seemed to have ready ears for the fae child and Maeve embraced the opportunity. Flittering on about dance classes, about ballet and what she has learned, how she hopes next year she will be tall enough to play Clara in the Nutcracker. She chatters about the drawings she has made, and about school and what she learns. How she manages to fit nearly all of this in is due to the fact that Maeve hardly ever finishes a story, so eager to move onto the next topic.

Entering in the garage, Maeve can hardly believe her eyes. Maeve has hardly lived a luxurious life, bouncing from foster home to foster home, these types of cars only existed in the movies and tv shows, not in real life, and yet, here they were right before her very eyes. "Oh my gosh, these are so beautiful," she says almost breathlessly. Maeve takes off then towards the car that had issued the responding beep. Tetra opens the door and Maeve eagerly climbs inside, heart thrumming with excitement. Violet gaze follows the man as he moves around from her side to the driver's side, she almost wills him to go faster, obviously much too anxious to begin their fun birthday night ahead.

Her head turns to look out the window as they drive through the city. Her lavender eyes can hardly keep up with everything that is passing her by. She laughs when he says his age, high soprano notes that linger with a girlish tinge. Being such a young age, Maeve can hardly comprehend Tetra's own age. "You're older than I thought," it almost sounds like an accusation, but there are layers of disappointment in her voice, though the pleasure of youth is that Maeve hardly remains fixated on that particular thought for long.

He seems almost caught off guard by the mention of Matteo. "Yeah, he is my fairy friend, and promised to help me," she says with a shrug as her amethyst eyes turn to look out the window once more, as if that would be the end of the discussion. Her answer is almost vague, especially for Maeve who, for the most part, tended to be an open book, especially around her were friends. Eyes alight though as she spots the restaurant up ahead. "Hey, I know that place. I met you there!" She says, practically jumping out of her seat. It would seem Tetra could simply not drive fast enough now as they neared their destination.

The panther parks the car and comes around to Maeve's side of the vehicle, opening the door for her. "Such a gentleman," she says with an impish grin before sliding out of the car. She looks up at him then, peering out from those long, dark lashes of hers into emerald eyes that have become all too familiar to the fae child. "Thank you, Tetradore," she says, the sincerity in her voice is almost heart breaking.