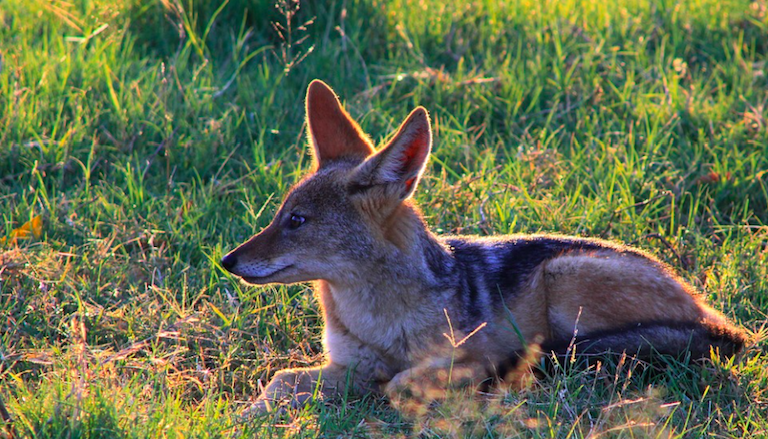 The jaw that drops causes tenor laughter to find him and a smile to reach those dark mocha eyes of his. The boy with hair like brandished gold cannot help but find some admiration for the little fae woman, she certainly was endearing. "I don't have any at the moment," he says, moving closer to her. "I am just waiting for the right someone," he says with a wink with one of those dark eyes of his. "I always need to be very careful." He was enjoying this immensely, of course, her gullibility was quite entertaining. Marcelo would not deny the feelings of affection he was holding for the girl every time she looked shocked at his words, or those cheeks blushed pink. It was, perhaps, the same sort of the affection he felt towards his little sister all those hundreds of years ago. But he quickly buries the memories of his old life and her glacial blues to look into the silver eyes of Iliana with his own of deep brown.

Those same chocolate brown eyes widen slightly with her next words. Oh, what he could say about this, but Marcelo hardly wanted to damage those innocent, pointed little ears of hers. "Well," he begins, brushing a hand through brandished gold locks as he thinks of what to say. "Sometimes they hug, and sometimes, they even kiss...on the lips," he says, narrowing brown eyes as if this were some sort of secret. "We can practice some time if you want, you know, in preparation for marriage, you can never be too prepared when it comes to that sort of thing," he adds, because he was a guy and she was a gorgeous woman, and how could he actually resist?

He watches with his dark eyes as her own of silver blink in some sort of confusion. How adorable. Though, Marcelo could hardly blame her, the brown eyed boy too was a big fan of secrets, they were just so much fun! Right?

But, Marcelo is grateful the conversation has changed to mushrooms and off of the topic of him not aging, being immortal, drinking from the fountain of youth and the like. For now, the jackal was content to keep this his own little secret. Maybe, eventually, after the brown eyed were joined one of the packs here in Sacrosanct, maybe then he would allow it to slip, but as of the current moment, he remains tight lipped it would seem. Even with his new found fae friend. "Arent they gross," he says, narrowing those dark eyes slightly in disgust. But then she frowns and the boy with locks of brandished gold certainly cant have that happening now can he?! A wolfish smile crosses his face then before he exclaims: "Just kidding! They only grow on beautiful flowers, that must be why you like them." Marcelo was certainly not above lying to get a pretty girl to smile. This when he turns her own question around on her, dark eyes widening slightly for effect. "I don't know, you tell me, does broccoli taste dead?" He asks.

He smiles and laughs along with her, his jovial nature clearly showing through the depths of his chocolate eyes. The thief would hardly believe such a statement that a fae as beautiful as Iliana was not accustomed to such compliments, but her nearly firetruck engine red cheeks could certainly tell a different story. It was endearing, really. Too many people were full of themselves these days, Marcelo included, but there was something refreshing about Iliana. She drops her head and the thieving rascal is quick to reach out for that chin with a light touch. He raises her head up slightly, to looking into that piercing silver gaze of hers. It is when he moves his hand to her cheek that he pulls away with her cheerful exclamation. It would seem she did not stay shy for long.

Dark eyes remain trained on her as she tells him allllll about her power, bobbing his head along at all the right parts to insure she felt heard. "So you like gems?" He asks her, raising his eyebrows slightly with the question. Certainly an interesting hobby. The amount of jewels and gemstones Marcelo had collected over the years was growing. Of course, it was less because they were pretty and more because he was a kleptomaniac with a flare for danger it would seem. "A lot of faes I have met can fly, maybe your wings are just hiding from you," he says with a wink of a single dark eye. "I'm good at being sneaky too!" He exclaims, mimicking her excitement. "Ever used that sneakiness for anything?" He asks. He was doubtful if the girl made her living stealing such as he did, but truly she has surprised him thus far.

She nods to him with such vigor, it looks as if her head would be free of her shoulders. He offers her a smudge of laughter as he slides into his clothes before offering her his arm like a proper gentleman should. "What! But you are so clearly deserving of such a title," the dark eyed jackal says. "I'll you what. I will call you m'lady and you can call me Sir Marcelo. We can be like ladies and knights of the round table," he says, attempting to play into the girl's clearly carefree and playful nature. "Unless you wish for me to call you marmaduke instead," he says with a single eyebrow arching in a question. "Anything you want," he says with a shrug, for once, meaning his words.

As they walk, he can hardly stop his dark eyes from glancing at the way those sashaying hips seem to move from beneath that dress of hers. She might be sweet and innocent, but that body was anything but. Iliana was gorgeous, there was no doubt about that. But, for once, his ultimate plan of his is not get her into his bed, tonight was truly just about fun and adventure. "Well, I think you might be the best," he whispers back to her. "I think you are probably better than Mr. Crow," he adds keeping his voice low. "The surprise?" The dark eyed boy responds. "Well, I cant tell you that, now can I? You have to wait and see," he says, drawing that hand over that is not entangled in her own to gently boop her atop the nose. Lips press together to form something in between a grim smile and a silly grin because he thinks Iliana is just in the palm of his hands.

"I do too," he agrees with her. Seeing everything in the world, well, that was a big task, after all, even in 500 years he has not yet seen everything. "We should see some things some time," he says then, dark eyes bright with adventure. "Ever been to Paris? Or Rome?" He asks. Already Marcelo was determined to make Iliana his adventure buddy. Whether or not she would accept is an entirely other matter. The tawny haired individual smiles at the girl, "If I can help it, you will never be like that rabbit," he says, laughing off death. It was easy when you cant be killed. But rest assured, he would not let anything happen to Iliana Who else would compliment him and go along with everything he says? Marcelo was a glutton for affection. "Wow, you have quite the history, tell me more about your friend," he says, ever curious. Sure, some would write Iliana for strange ramblings, but Marcelo is finding the fae girl to be incredibly fascinating. He reaches over to the arm that holds his and he gives it the lightest of squeezes. "I wont let anyone take your ears, I promise," he says, crossing his heart despite the wicked grin on his face.

He follows her lead, content to change the course of conversation. "Actually, the water was quite warm," he says with an easy going smile. It is then he realizes that they have reached the restaurant still in the southern side of town, just a family owned Italian place. Marcelo releases Iliana before going to grab the door and hold it open for the lady. "After you," he says with a half bow for her. Earthen eyes follow her in before he enters right after her, letting the door close behind him. "Table for two," he says to the hostess, who then leads them over to an empty table near the wall of the restaurant. They are handed two menus which Marcelo promptly opens, even if he already knows what he is getting. "This place has the best spaghetti...and you can even get mushrooms if you want them."

Marcelo Lucas Rumeir
image by beesmurf