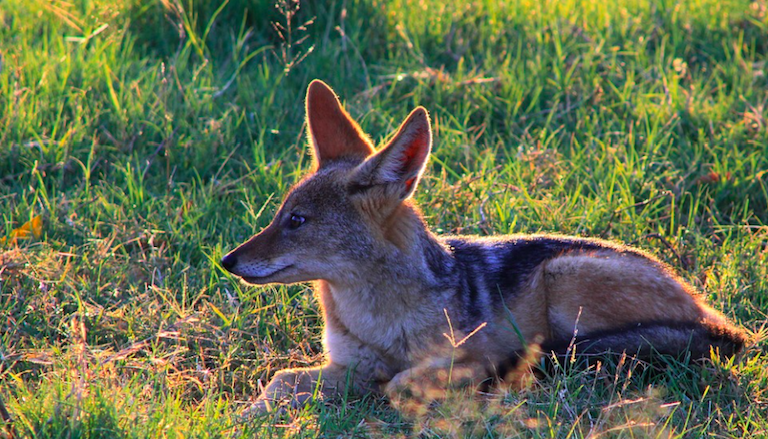 The boy with locks of brandished gold and dark eyes, stands with the coyote as a golden eyed jackal. He was smaller than her in stature and frame, as was his animal, somewhere between the size of a coyote and a fox. He tilts that head though with her words, golden eyes watching her carefully. "Yeah I suppose," he says, those honey hued eyes narrowing slightly, but whatever suspicion or confusion he felt was quickly gone. Really, what was it his business? His attention is quickly caught with her next words, those ears swiveling forward towards the coyote. Raiding? Was she a thief like himself? This could certainly prove interesting. "Really?" He asks, those golden eyes surely showing some interest as he tilts that tawny head of his, there is a hint of a smirk even in his voice.

"Coyotes? Like real coyotes?" Marcelo asks her, curious to say the least. Marcelo had always kept his distance from actual animals. Their thoughts always seemed shambled, and certainly not focused on drinking or partying. "How long did you live with them?" He asks. Marcelo had run ins with real animals, but most of them time he simply turned away, leaving the poor creature to figure out what they had just experienced. How this girl actually managed to live with them, was beyond the jackal's comprehension. "The pack I lived with liked to stay in were form longer than I enjoyed," he says. It had been a good time, a time he had needed to let his head fall into a simpler time. But, it was not as if Marcelo had wanted to stay that way forever. "I am far too hot in my human form not to shift back," he says almost cheekily. "You should check it out some time." Honestly, such a flirt. He really never passes up an opportunity.

She leads him through the trees and he follows her, not knowing where she could be leading him. Still, what was life without a bit of mystery? When the boars come into sight, Marcelo closes the remaining distance comes to send beside her, taking in the sight before him. "Bacon is probably my favorite food group," he says with a breath of laughter. He watches then as the female takes off and attacks the boar. It is violent, but nothing more than predator attacking prey, she was likely to end up at the slaughter house anyway. But, Marcelo can see from the way she is attacking the boar, that she did not seem to be attacking to kill. It is only then that he notices the boar is not the only thing in the pen, but he spies some piglets as well. Was she attacking the boar so that he could attack the piglets? Well, she was about to be disappointed. "Not kids," he says, even if they weren't human or were, or otherwise, he did not attack young. He lets out a loud enough yip to get her attention. He had an idea, that would guarantee to get both of them fed, and maybe treat the girl that seemed to wildly adventurous. Even if he was not rather excited about takin out some piglets, he certainly did not want to leave the girl hungry. Hopefully, his idea was enough to convince her for a night out on the town. "Hey!" He shouts. "How about we get an actual steakâ€"my treat!" Whether the coyote girl agreed or not would be up to her, but Marcelo just knew that he could not attack those little baby pigs. (I mean, did you see how cute they looked?) But, he certainly could go for a steak.

Marcelo Lucas Rumeir
image by beesmurf