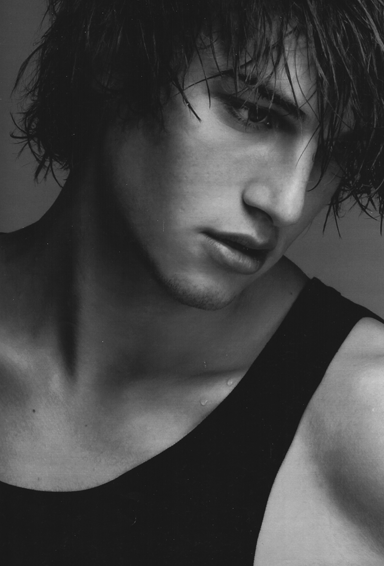 It had hardly occurred to the young man in any sense that he was supposed to wait for Raven to make her own way down that very 'runway' as he had dubbed it, of her own accord. The simple moments in which Raven appeared readily seeming to captivate his attention. It had been hours since he had last seen his mate and, despite his adoration for that time spent with Tetradore alone he was inclined to miss Raven when she was away. Tobias so simply having become used to his mate and her presence. Raven was, simply, always there- even on those nights when she read quietly or sat outside or did those things she desired to do that did not involve those video games or fights Tobias himself so relished in. That simple bond that bound them assuring him, constantly, off her very presence. That possessiveness of sorts, perhaps, permitted on a being who danced upon that line of animal and man so perilously close. He desired Raven to be where he knew. Nearby. Safe. Those protective instincts equally as potent. To have his companion within his view once more nothing short of satisfying. Her pause at the top of that aisle readily prompting that grin of delight to his features and yet- when she failed to near instantly come towards him his features so readily took on that frown. Tobias scowling lightly in some manner of confusion before promptly shouting down toward her. That entire congregation breaking out into that gentle, good-natured laughter. After all, that small collection of beings gathered here today were nothing short of their friends and family. Near each of those guests well aware of Tobias in every sense. Those decided antics viewed with little save good humor before Raven so suddenly begun to walk towards them.

Tobias' own dark gaze readily lingered upon his mate in those moments that followed, the stark white off her dress capturing the light of the moon above, the snow and the fairy lights that adorned the trees in a plethora of pattern that seemed to captivate his attention entirely. How very much he understood of those traditions so occurring all around them and upon Raven's dress itself remained to be seen. The idea of something new or old, something borrowed or blue hardly having occurred to him in any sense. Tobias so decidedly a creature of the present- of here and now. The young man the very epitome of a being whom lived within that very moment in time itself. The meaning behind those gathered items lost upon him entirely. Tobias seeing only what he desired to see. His mate- in the nicest of all the dresses he had ever seen her wear. One that captured the light. One that made her smile. Yes. She had a good smile tonight. The boy readily having connected smiles with happiness even if those feelings were so often conflicted within himself. His ability to truly smile often a decidedly confused gesture and yet Raven's clear pleasure prompted that grin to his lips in turn. That dress made her smile. He was sure. He liked it when she smiled. He would remember that dress. His mind, perhaps, prone to make those connections...oddly. To understand that situation uniquely and yet no lack of pleasure seemed to find his features at all. At least until they reached the end of that aisle and Dorian moved to offer Raven that hug.

Tobias scowled readily. The boy, at the best of times, unwilling to tolerate that affection being shown toward Raven from any other man. The hand that suddenly reached for his shoulder seeing his head turn to glance back toward Tetradore. His best friend offering that subtle shake of his head. Tobias content to huff all the same as Dorian moved to return to his seat.
Raven's soft, sudden insistence that she had made it saw those dark eyes return to her. That faint flare of gold so stirring within those fathomless depths in some representation of that Other whom so often lingered. That soft insistence he looked very handsome seeing the return of that grin.

"I....know."

Modesty, it seemed, would never be a decidedly potent trait within the young man. Lashings of dark hair falling readily into his gaze then despite those efforts that had been made to comb it into something suitable. Tobias' hand so suddenly extending forward then to trace at the line of that dress along Raven's shoulder with a clear fascination for that fabric. That flare of gold so suddenly birthening within the depths of his eyes as his hand so suddenly stopped, resting upon her should instead in a clear gesture of steadying affection. His eyes meeting her own. His voice suddenly free of that stutter.

"You look beautiful."

How fleeting that very gesture was. Those words softly uttered in near the same moment as his hand dropped to take her own. That gold so fading from his gaze as Tobias appeared near momentarily baffled by those very words and how they had come to be and yet- he so hardly appeared displeased with them in any sense. The lanky leopard so turning obediently with his bride to face that minister then even despite his utter lack of ability to truly perceive just what that man was saying at all. His head tilted near curiously, his mind ensnaring several of those words he understood, turning them over and yet he remained quiet in that simple mimic of Tetradore and Raven herself in turn. That very reading seemed to hold his attention in turn, though just what within those words seemed to captivate him remained to be seen. The voice of that celebrant seeming decidedly acceptable to him if only for those calm, easy tones. That sudden squeeze upon his hand seeing the boy glanced downward before looking to Raven once more. That question on whether or not he wanted to speak seeming to prompt that ready debate within the boy. His gaze shifting from Raven, to that gathered congregation, to Tetradore and back again. The deviant so rarely called upon, in any sense, to speak in front of a crowd of more than the pack itself. Tobias, for all his obscurity, hardly oblivious to the way his words sounded. To how very different he was despite his efforts to be otherwise. That internal war decidedly clear before the boy so suddenly nodded. Even that celebrant inclined to look surprised before simply gesturing for the young man to go ahead. Tobias lifting one hand to run through his hair then, musing it thoroughly before those stuttered lyrics found himself at last.

"I am.....very good and....Birdie is....good to...but.... we are....better together. I think. I like when....you are.....with me because I.....like you...probably the best. Sometimes I am.....not always.....so good. Sometimes I not.......not always understand like....others. Sometimes I am not....always the best at....things and.....make Birdie.....sad but....even if sometimes not....the best or....sometimes not good.....or sometimes make Birdie sad I will.....always come home to you. Promise."




madness, as you know, is like gravity: all it takes is a little push