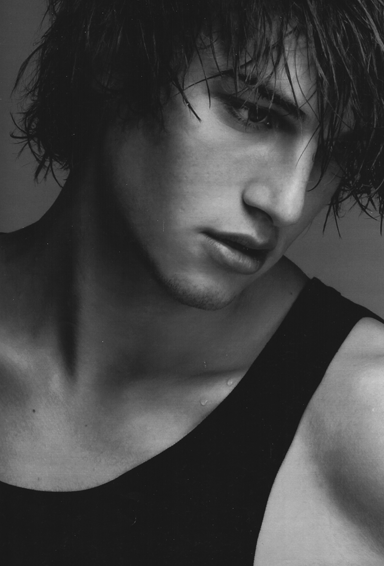 Those tiny lights that flickered and danced within the trees seemed to readily hold his attention. Tobias near fixated upon them. The boy held a ready fascination of sorts for the way they twinkled, lighting that path that had become the aisle he so stood at the end off with Tetradore beside him. Both men were adorned in those tuxedos that had taken far longer than it surely should have to dress themselves within. Tobias so having required a considerable amount of convincing to give up his usual denim outfit for one he was assured was not nearly so comfortable. The lanky deviant was so hardly used to those more constrictive outfits and yet, that ready insistence that it would please Raven to have him wear it, let alone watching Tetradore dress himself in near the same outfit was seemingly enough to prompt the boy to wear that very outfit in turn- even after so being coerced to shower and shave that stubble from his chin and cheeks along with washing his dark hair until it nearly gleamed. This evening, by far, the very best Tobias had perhaps ever looked and a decidedly stark comparison to the evening before.

That bachelor party the prior evening had lasted well into the night and the morning afterward. Tetradore had closed down the Ark for the entirety of the evening so it might simply be theirs alone before gathering that small collection of other men Tobias found tolerable enough to permit to spend time with. Tetradore himself, Jackal, Henry and Matteo the only companions the boy was seemingly content to allow in his company for any extended period. That absolute smorgasbord of pizza had been nothing short of delightful to the boy, Tobias holding little true understanding of just why he had been thrown such a party as this and yet the Leopard hardly made any move to question it all the same. After all, questions were simply not within his nature at the best of times. Those multiple dessert and candy tables that had been provided afterward to accompany those hours-long gaming sessions had utterly delighted the boy. Tetradore, perhaps wisely, having made sure that alcohol flowed readily for everyone save Tobias himself. That party having taken a decidedly competitive edge during several of those games. A meal of little save for sugar inducing a decided sugar high in the vast majority of those gathered boys for much of the evening. The vast majority of them still wide-awake to see that sunrise before that inevitable sugar crash took hold.

Tobias had woken up well after lunch time, his lanky figure sprawled across Tetradore's bed, that game controller still resting upon his chest. Tetradore himself had collapsed beside him on that bed, Tobias' arm used as a pillow for the Alpha for most of that sleep, the appendage very near aching. Jackal was hardly far away and collapsed upon that floor rug, Henry having managed to claim one of those large armchairs to fall asleep in while Matteo, still sleeping, had commandeered the couch. The mess they had made nearly as legendary as that party itself had been- those hangovers threatening to be equally as such. That party of men decidedly slow moving when they were finally roused and yet- the sheer delight Tobias had taken in that very evening was decidedly clear. The boy entirely content to return to munching on that left over pizza and candy before Tetradore had woken up enough to prompt him to start getting ready.

That they had made it to that venue on time was perhaps a miracle within itself. Tetradore and Tobias still pulling those black jackets into place as they had all but run across the front lawn and through that bark door before being ushered by that wedding coordinator to their chosen place. Tobias, several times, content to query just where his mate was. The deviant so decidedly having come to....miss her company in those hours they had been apart. That simple protectiveness that so flared within him for his chosen mate near demanding to know exactly where she was even despite that insistence he was sure to see her soon. Tobias, in the least, so proving to have held an understanding of that wedding. The boy, several times, insisting to that wedding coordinator he knew exactly why he was here even if the fellow seemed to doubt Tobias knew anything at all. Just where or how the young man had come to have any understanding of those weddings remained to be seen and yet- Tobias remained adamant all the same that he understood just what he was doing tonight. Making Raven his wife.

Those fathomless dark eyes continued to linger on those fairy lights within the trees as he stood at the end of that aisle. His mind readily seeming to find some sort of fascination with them before his gaze at last turned to that small crowd of friends and pack mates seated before him. Raven and himself, after all, lacked any real family outside of that pack. Tobias calling Tetradore and Nadya alone his siblings. That small crowd thereby so made up of their friends instead along with that selection of staff from the Ark whom had been decidedly eager for that chance to dress well and step away from the boat for the evening. The sudden, soft sound of music so readily prompted Tobias' gaze upward once more and near instantly toward the other end of that aisle as those guests shifted to turn in their seats. Tobias' own dark eyes widening readily at the sight of Raven within that white dress, that look of surprise decidedly clear upon his features before that simple, singular grin seemed to overtake. That look nothing short of genuine and by far one of the most real smiles the boy had ever given.

"Birdie....looks pretty."

Those words were uttered to Tetradore alone, his best friend and best man as Tobias turned briefly towards him before his attention shifted back toward Raven. He understood so little of beauty, his mind so often incapable of recognising anything beyond that black and white of this thoughts. The world existed as it existed. Things were not pretty or ugly. Not beautiful or lacking. Things simply existed. The young man having never truly shown any real ability to define one thing as more lovely than another. His tangled thoughts and fractured mind inclined to choose those things around him based upon what he liked or disliked with little thought to why he chose them at all and yet.....Raven was pretty. This he knew- without question. Maybe more than pretty. Yes. Maybe beautiful. That touch of gold so seeming to flare readily within his gaze in that moment as Raven lingered at the end of the aisle with Dorian beside her. Tobias' head content to tilt in curiosity as to just why she was not coming toward him.

"Birdie! Why are you.....not coming down....the runway?"

That soft, good natured chuckling echoed gently from their gathered friends then. That an aisle was not a runway remained to be seen. Patience perhaps equally lacking from the deviant boy. Tobias, here and now, simply desiring to have his Birdie beside him....




madness, as you know, is like gravity: all it takes is a little push