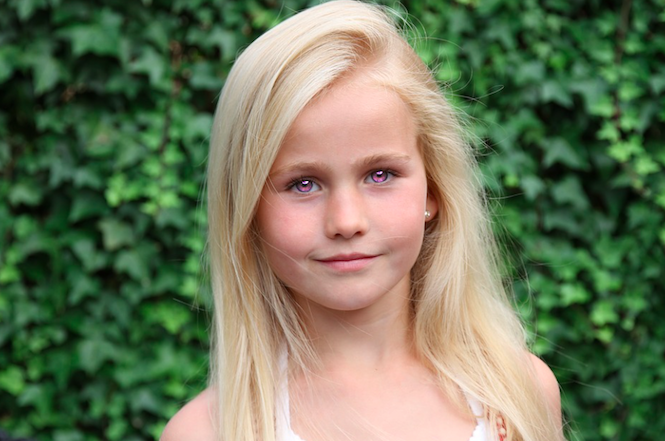 (dear friend it will be alright, please just stay by my side)
(you might think the world is tumbling down, but it's not)
The pale golden haired fae could in truth never hope for a normal life. Of course, Maeve hardly knows this, she goes about, going to school dancing any chance she got, and playing with friends. She tried to be as normal as possible, but she was supernatural, a rare supernatural at that. Her life would be far from normal, but, for now, it was enough to let her try, she would have plenty of time in her life to learn otherwise. The pale girl with eyes of violet simply does her best to fit in, as futile as it may become in the future.

Her hand fits all too easily with its delicate and small size into that of the vampire's. Maeve should be more scared, she should be more cautious. She shoulder, but that is the punishment of youth, Maeve wanders this great, big, dangerous world without any wisdom to keep her from doing these sorts of things. So she turns her back to the vampire, leading the way to her favorite ice cream place before calling over her shoulder to the administrator. "I will be back in time for rehearsal," she says with a radiant smile, turning back to the door once more.

Once they are out of the office, the dark haired vampire catches up easily to Maeve's much smaller strides. Taste testing, he asks. Maeve turns to look at him with a smile despite herself, but quickly turns to that face of subtle expressions, the panther Maeve adores so much comes to mind again. "Maybe I don't have to taste test all of them, maybe I know," she says, raising her head a little higher, there is a sassy tone her voice, unusual for Maeve, but it is all in good fun. She is unaware of his almost uncertainty with the sun. The fae child with hair like golden snow lives for the sunshine, the way it feels against her skin, the warming sensation it provides. Perhaps, if she knew Damon's circumstances she would have felt sorry for him.

With he discussion of the power that they seemingly shared, there is a silence that holds the air around them captive as Maeve tries to think back to times she had accidentally asserted her power onto others when she would have rather not of. There had been tantrums when she had been younger than she is now, crying as any child does and Maeve had made people do things when all she wanted was comfort. Maybe Damon would understand, but the fae child stays quiet for now as they enter into the ice cream parlor, the little blonde child skipping ahead of him to pull open the door, eager for the tasty frozen treat.

Before they order, Maeve notices Damon bend down beside her, he speaks in lowered tones and already her interest is geared. What little girl doesn't love a secret? "What?" She asks, intrigued by what secret this vampire could possibly harbor. Suddenly the shop grows bright and Maeve cannot see anything. Instinctively, she covers her eyes to avoid the bright light, opening them only after a short time has passed. Violet eyes gaze around at the confused ice cream eaters before glancing up at Damon, silly grin on her face, obviously impressed by his talents. "How did you do that?" She says in hushed tones, smart enough to know this was probably a best kept secret. She grabs his hand then, leading him over to the ice cream line so they could order. Once her ice cream is safely in her hand and she sits down at a table, Maeve leans in close. "So, what other magic can you do?"