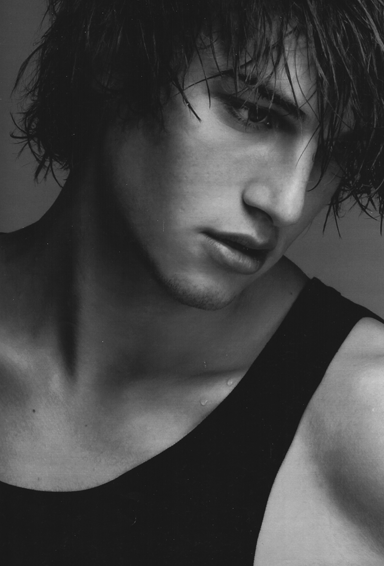 Ravens very insistence that those cows were called 'Wildebeest' so prompted that frown to the young man's features. Tobias content to scowl at those very creatures as if debating whether or not 'cow' or 'wildebeest' was in fact a better name for them. His companion's query on just why he seemed so eager to see them only further prompted that look of contemplation. Whatever thoughts so stirred within his mind so clearly attempting to align into a cohesive thought in some capacity. Tobias so understanding that question and yet the 'whys' of the world were so often distinctly difficult for him to compute. After all 'why' so required a deeper level of thought. An understanding of cause and reaction, a questioning of his own actions and their outcomes, some ability to reflect upon past, present and future all at once. He was not totally incapable of such things and yet the very strain they placed upon his mind was a struggle all the same. Tobias inclined to become frustrated at himself in those moments in which his mind refused to align itself. Those words that so often made sense in his head, so often coming out of his mouth in a near garbled fashion. One he had long ago accepted. Tetradore and Raven two of the few beings whom seemed to show a ready understanding for his language all the same. Tobias, for several more moments, seeming content to think on that answer.

"I like....the way.....the wildecows....move."

Wildebeest and Cows, it seemed, had become a combined animal. That very use of that word perhaps displaying his very ability to understand that what he had been calling cows were indeed Widebeest and yet once more those words so failed to offer themselves in an order anywhere near akin to correct. Tobias, for now, hardly seeming concerned all the same. That question, once answered, could easily be forgotten and dismissed. The man seeing little need to explain just what about them 'moving' so seemed to appeal to him. A predatory part of himself perhaps taking great delight in watching that prey species as it existed. That movement so decidedly attractive to him even if he didn't fully comprehend why. That more human part of himself, perhaps, merely enjoying that animal for what it was. Tobias' attention remained upon that waterhole as Raven leaned towards him. The man readily allowing his wife to fix and arrange his hair in any fashion she saw fit before her lips pressed to his cheek in that ready kiss. That gesture prompting a crooked simper to his features in clear display of recognition before the sudden sight of an approaching giraffe seemed to ensnare his attention entirely.

One hand lifted upward, Tobias gesturing to that animal now as Raven's own gaze moved to follow before she insisted that creature surely had a family. Those fathomless dark eyes moved to find that second giraffe and a much smaller third one that loped behind. The creatures spread their front limbs to bend and let their long necks reach down to the water. Tobias seeming decidedly taken with that very action, his lips so moving in those words that were mumbled and muttered to himself alone. His own head tilted slightly to the side, as if attempting to puzzle out some thought before Raven's hand returned to his hair to push it back once more. That very gesture seeming to distract his thoughts then. Tobias, once more, entirely content to allow Raven that touch he so often refused others.

"I did sleep well, thank you."

Those dark eyes turned suddenly towards her then. That often dark gaze so replaced entirely with that near molten, burnished gold. Those words holding no stutter or stumble. His voice holding a near deeper note then as Tobias offered his wife that warm simper- only to suddenly eye that ground around him with a clear curiosity as if puzzled as to why on earth he was seated upon that wooden verandah when a perfectly good chair beside Raven existed. That confusion clear upon his features then as he glanced suddenly toward Raven once more.

"Why am I on the ground? Do I....not like chairs?"

Was it possible his Other held some sort of disdain for seating? That frown upon his features only furthered then as Tobias shifted forward to pull himself to his feet and stand upright, the man dusting off his legs before eyeing that pair of boxer shorts. This, it seemed, the only thing he had chosen to wear this morning. Not that it mattered a great deal when he was with his wife alone atop those trees. Tobias turning to face her once more. How rare it was that he might have....any chance to be with her. At least like this. That other half to himself far...stronger in most instances and far more demanding of just who had control of that body they shared. That well rested sleep, for once, perhaps allowing him that chance to finally take over even if that time would be so undoubtedly short as it always was. His existence so veritably damned to watching from the shadows and yet- for those fleeting moments in the sun it was surely worth it all the same. His features softened readily as his gaze rested upon his wife then. Hmm. Wife. Maybe he could finally say it now and enjoy the sound of the word upon the tip of his tongue. His Other so far having stolen near all those moments from him.

He shifted suddenly then, moving to step behind that chair Raven reclined within before leaning down to let his arms drape across her figure in clear affection. Tobias dipped his head then, his lips pressing to the top of her shoulder before trailing up her neck in that sweet, teasing gesture before his head simply came to rest atop her own.

"I think, that it is finally time that you decided what we were going to do."




madness, as you know, is like gravity: all it takes is a little push