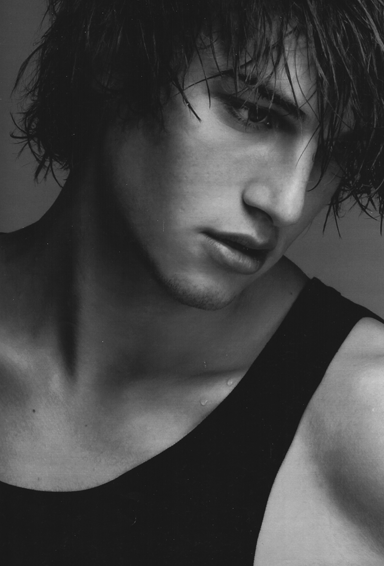 It was a truly rare and peaceful sleep for the dark-haired young man. Tobias so often prone to roaming within those early hours of the morning. The boy, at home on that Ark, more often than not so seeming to have the habit of strolling about that ship at three and four in the morning. An unofficial security guard of sorts. Tobias so seemingly content to patrol that ship until the rise of the sun before he returned to his bed either beside Raven herself or beneath Tetradores own so depending upon his mood. Tonight however, away from the Ark and the city and within that different country entirely - the man found himself entirely and completely asleep. It had been years since a sleep that deep had found him. Tobias veritably lost within the embrace of those fragmented dreams that danced with as lacking a precision as so many of his thoughts seemed to. Those dreams, more often than not, so tending to be off his childhood rather then his adult years. That state of sleep, perhaps, prompting his mind to search through those fragments in time and so attempt to piece together that complex story off his very existence. His was oblivious, in those early hours, as Raven stirred beside him. His even breathing so hardly faltering. That hand that rested within his hair so prompted the gangly deviant to stir ever so slightly and yet once more he hardly woke. Tobias snuggling further down in those blankets as Raven slipped quietly from the bed to make her way to the kitchen and out onto the verandah.

It had taken Tobias several hours to come to terms with that tree house. The boy appearing nothing if not baffled by it upon the evening they had arrived. The gangly deviant so seeming as enchanted by it as he was almost wary. Those memories of something so very similar seeming to veritably hamper his efforts to accept this one. He remembered that house in the trees, one from....so long ago and yet that memory so became veritably fragmented after that. This alone seeming to prompt a great deal of confusion within the boy and yet, with Raven's coaxing, he had so allowed himself to be lead up those stairs all the same. His wife, perhaps, one of the few beings Tobias so allowed to lead him anywhere without a degree of resistance. That luxuriant lodging at the top of that tree however was far different to that far smaller house he so remembered from childhood. Tobias s suddenly seeming to find a fascination with near everything within that house. That waterhole, so clearly visible from their verandah, had been his second source of fascination. Tobias all but mesmerized by those animals that came as the sun set to drink. Just what each of those animals were remained a veritable mystery to him. Tobias so content to refer to every single one of those antelope as 'deer' and each of those Zebra as 'horse'. Those wilderbest so referred to as 'cows' in turn. His ability to name animals, it seemed, hardly having progressed into african wildlife and yet he so recognised that difference all the same. Tobias having spent very nearly an hour seated upon that veranda as the sun set merely watching those creatures with a distinct fascination that so seemed to linger somewhere between childish innocence.....and predatory possession. That Leopard within him, it seemed, responding readily to that african environment.

Raven had, at last, so managed to distract him from watching those animals after the sun had set. Tobias more then willing to allow himself to be coaxed into that bed with the promise of enjoying her. Sleep had come readily and easily in the wake of those more intimate activities. Tobias stirring only now in the wake of that lack of warmth beside him, those dark eyes fluttering open at last. Whether or not that lanky deviant so remembered exactly where he was remained to be seen, Tobias hardly appearing alarmed in any sense as he sat upright. That wild dark hair far more tousled then normal thanks to that very sleep. One hand lifted to rub at his eyes almost lazily, his vision so cleared enough to spot his mate out on the verandah in that early morning sun. Tobias easily pushed those blankets aside, his naked figure slipping from that bed then to head towards Raven. The boy abruptly paused then to glance back towards that chair beside the bed.

"We....do not....go out....without pants."

Those words were very near a mumble to himself. Tobias, it seemed, inclined to remember those rules Raven so often saw fit to enforce, the boy crossing that room then to grab that pair of boxer shorts before slipping them on and over his figure. His bare feet easily padded across those floorboards then, carrying him back across the room and out onto the Verandah to stand beside his mate. That lopsided grin flashed towards her then before he moved to abruptly sit upon the ground beside her chair. His long legs folded beneath him.

"When...will the.....cows come back?"

His hand lifted then to point back towards the waterhole he adored. Tobias having taken a great liking to those wildebeest in particular. His gaze lingering on those trees then.

"Birdie!"

That sudden exclamation so readily left his lips then. Tobias glancing hurriedly at his mate before gesturing wildly to that waterhole again.

"Giraffe!"

That word- he knew.



madness, as you know, is like gravity: all it takes is a little push